Russian Black Sea Fleet HQ hit by rocket attack – governor
Sevastopol's top official Mikhail Razvozhaev has urged calm following the incident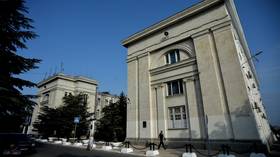 An "enemy" rocket has struck the headquarters of the Russian Black Sea Fleet in Sevastopol, Mikhail Razvozhaev the governor of the Crimean city reported on Friday. No immediate reports on casualties or damage were available, he said, while calling for calm.
The official stated that some debris fell near a theater in the city, and called on the public to report any such discoveries to the authorities.
Ukrainian President Vladimir Zelensky has threatened to destroy all ships of the Black Sea Fleet, and has declared expelling it from its home base – held for several centuries – as a priority for his country. Ukrainian forces launch regular attacks on Russian warships based in Sevastopol, as well as various locations in Crimea.
Earlier in the day, the Russian Defense Ministry reported intercepting a Ukrainian guided missile and two drones off Crimea's west coast.
Razvozhaev urged Sevastopol residents to stay inside and avoid the city center. Those living near the military facility should immediately shelter if they hear a siren, he added, warning that another attack may come. He said firefighters were tackling the fire resulting from the strike.
Shortly afterwards, the governor announced that the air threat was over, but asked residents to avoid the central part of Sevastopol due to ongoing "special measures."
You can share this story on social media: