Russia issues warning over NATO war games
The Western alliance is preparing for "a confrontation" with Moscow, a senior diplomat has said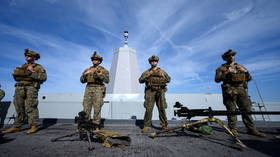 Russia's Deputy Foreign Minister Aleksandr Grushko has accused NATO of rehearsing for a military conflict with Moscow, as the US-led bloc plans its largest joint exercise since the Cold War.
"These provocative exercises are clearly aggressive," the diplomat said on Wednesday, arguing that the maneuvers planned for in 2024 are "an attempt at military-political pressure."
"The scenario [of the drill] was formulated in such a way that it leaves no doubt that it is part of preparations for a military confrontation with Russia," Grushko said. "It is yet another deliberate step towards destabilization of the situation in the north of Europe." He added that Moscow would do everything necessary to ensure the security of its borders.
Grushko's statement came after NATO announced that next year's Steadfast Defender exercises would be the largest joint exercise the alliance has conducted since the Cold War. The war games involving more than 40,000 troops will be held in Germany, Poland and the Baltic states, Admiral Rob Bauer, chair of the NATO Military Committee, said on Saturday. "A new era of collective defense is upon us," Bauer told reporters in Oslo, Norway.
According to the Financial Times, the drill revolves around a fight against a fictitious enemy "modeled on a coalition led by Russia, named Ocassus." For the first time, the exercise would use real-world geography to "create more realistic scenarios for the troops," FT reported.
General Eirik Kristoffersen, Norway's Chief of Defense, said that one of the elements of Steadfast Defender is an exercise dubbed Nordic Response, "the biggest" ever to be held by the Nordic countries.
NATO has increased the scale and scope of its exercises since 2014, after Crimea voted to leave Ukraine and join Russia in the wake of the Western-backed coup in Kiev that year. Moscow views NATO's continuing expansion eastward as a threat and has cited the bloc's cooperation with Kiev as one of the reasons for its military operation in Ukraine, which was launched in February 2022.
Russian officials have further warned that deliveries of heavy weapons to Ukraine were making NATO members de facto parties to the conflict.
Speaking at the UN Security Council on Wednesday, Foreign Minister Sergey Lavrov accused the West of "eroding global stability" and stirring tensions. "The risks of a global conflict are growing," the minister said, as he slammed NATO members for discarding efforts to bring about a peaceful resolution of the Russia-Ukraine conflict in favor of belligerent rhetoric.
You can share this story on social media: