Pirates of the European Union: How Brussels turned its own customs agents into petty thieves
The bloc's bureaucracy, unable to sever economic ties with Russia, decided to annoy Moscow in different way – by stealing from the country's ordinary citizens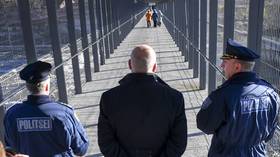 Powerful bureaucratic machines work perfectly – until they don't. Brussels is no exception. The European Union carefully regulates the shape and size of cucumbers, but for some reason still can't decide how its own sanctions against Russia are supposed to work.
Despite the bloc's public shows of unity against Moscow, some EU countries still refuse to let their people freeze in winter and won't stop buying Russian gas through long-established supply channels. There's still no final solution to this issue. However, the European Commission recently issued a document that literally turned customs officers into pirates who were allowed to rob Russians. As it turned out, the "decisive response to Russian aggression" came down to preventing Russian citizens from taking their laptops and toilet paper on a trip to the EU.
This modern-day "letter of marque" didn't remain in force for long – EU officials quickly backed down, demonstrating how they got tangled up in their own rules.
Clarification of a clarification
On September 8, the European Commission released a FAQ document on Annex XXI to Article 3i of sanctions regulation No. 833/2014, published in 2014. The original act established a ban on the import into the bloc of goods that "generate significant revenues for Russia." In practice, this document simply emphasized the need to control the transit of goods across the Russia-EU border.
Up to 2022, the restrictions were rather mild. If a Russian tourist didn't carry gold bars or Rubens originals in their luggage, they were guaranteed to pass through European customs without any problems. Trade between Russia and Europe did not stop either and Moscow was one of Brussels' largest trading partners.
The new explanatory document, however, caused a stir both among Russian tourists and at EU customs. The European Commission pointed out that even private property not intended for sale is considered to be a "prohibited import." Technically, customs officers were ordered to seize everything that cannot be imported into the bloc due to sanctions: cars, leather and fur products, semi-precious and precious stones, toilet paper, shampoos, toothpaste, trailers and semi-trailers for cargo transportation, yachts, cameras and much more.
Having carefully studied the documents, lawyers came to a disappointing conclusion: confiscation cases may be disputed on an individual basis, but there is no guarantee that any goods on the list may be safely brought into the EU. BGP Litigation partner Sergey Glandin advised Russians not to carry anything that could be confiscated. For example, on entering Germany, the country's citizens should leave behind cars with Russian license plates, jewelry, toiletries, tech items. Meanwhile, they should put on a tracksuit (along with knitwear, the sportswear was generously excluded from the list of banned items) and hope for the best. What remains of the luggage should be packed in plastic bags, because suitcases can also be seized according to the new rules.
The threat of being literally stripped naked at the border became particularly relevant after several Russian cars were confiscated in Germany even before the FAQ was published. The police stopped one driver right on the highway, seized his car and left him in the middle of the road. For the authorities, it does not matter whether a person lives in Germany, has a visa, is passing through the country on his way home, or plans to stay for a long time – the mere fact that his car is registered in Russia is reason enough to seize it.
In some cases, the decisions can be disputed in court, but not everyone is ready to enter into an expensive and drawn out struggle with the German legal system – and this particularly concerns people who were just passing through.
Obviously, if every Russian who crossed the EU border were to have all their belongings from the "banned" list confiscated, it would turn into a massive robbery. Over the past 10 years, Russia has been among the leading countries when it comes to Schengen visa applications: in 2019, over 4.1 million applications were submitted and 82% of the visas received were multi-entry visas. This statistic was one of the highest in the world, while the rejection rate for Russians was among the lowest, at only 1.5%.
Despite the recent difficulties in obtaining visas, and all the sanctions and threats, the huge tourist flow has not stopped. In fact, the demand for fall vacations in Italy and France has increased by 30% among Russians this year. And that's not counting people who visit relatives in Europe, travel on business or come for medical treatment.
The new rules have confused not only lawyers but also politicians, including those inside the bloc. In a letter addressed to the President of the European Commission Ursula von der Leyen, German MEP Sergey Lagodinsky called the new rules not just useless, but harmful.
As a result, shampoos and jackets previously considered a threat to European security won't be seized from Russians – or most likely won't be.
Four days after the publication of the strange FAQ document, the European Commission hurried to publish yet another explanation. This time, officials said that goods which do not raise significant concern of circumventing sanctions – for example, personal hygiene items or clothing worn by visitors or contained in their luggage – should be evaluated by customs officers in a "proportionate and reasonable manner." Attention should only be paid to cars with Russian registration or license plates.
Moreover, the European Commission refused to take responsibility for the matter, stressing that the measures are advisory in nature and EU members can regulate their customs policies independently.
This means that personal items and vehicles may or may not be seized at the border – all decisions will be made on an individual basis.
War against convenience
Most likely, Russians who carry luggage across the EU border will need to rely on good luck and hope the customs officers are in a good mood, since a lot will depend on chance. But Russians can definitely count on an unpleasant turn of events when entering the Baltic states. The authorities of Estonia, Latvia, and Lithuania unanimously stated that they would not allow cars with Russian license plates to cross the border. Estonian Foreign Minister Margus Tsahkna said, "We cannot allow citizens of an aggressor state to enjoy the benefits offered by freedom and democracy while Russia continues its 'genocide' in Ukraine."
Incidentally, Tsahkna's colleague – Estonian Prime Minister Kaja Kallas – is facing career trouble precisely because of business with the aforementioned "aggressor state." As it turns out, her husband's company continues to conduct business in Russia despite the sanctions – moreover, according to some reports, the firm indirectly supplied the Russian police. Many outraged Estonians have called on Kallas to resign, but she has refused to do so, saying that she did not know anything about her husband's business.
Meanwhile, it is known that Kallas owns a share in the company, has visited its factory and even provided a loan for it. However, she still claims that the whole story is a simple misunderstanding and there's no reason for her to step down. Apparently, there is a big difference between a profitable business in the "aggressor state" and tourism from the "aggressor state," which holds no personal profit for politicians.
The restrictions on the import of personal belongings will surely ruin some trips to the EU, but most likely will not have a major impact and will be quickly forgotten. What this story reminds us of is that many of the bloc's members are not ready to give up business relations with Russia. However, they are ready to make life for Russians more difficult by any means, merely to demonstrate symbolic discontent with the "aggressor" – even if their decisive measures come down to stealing cars and toilet paper.
The statements, views and opinions expressed in this column are solely those of the author and do not necessarily represent those of RT.
You can share this story on social media: