Ukrainian drone attacks on Moscow and Crimea foiled – MOD
Multiple hostile aircraft were downed over the Black Sea and in Moscow Region, according to the Russian military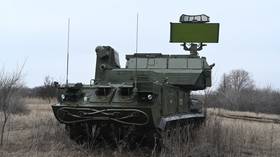 Two unmanned aerial vehicles were destroyed en route to Moscow in the early hours of Sunday, while at least half a dozen attempted to strike targets in the Crimean Peninsula, the Defense Ministry said in a statement.
"The air defense repelled a drone attack on Moscow over the Istra district west of the city," Mayor Sergey Sobyanin confirmed on Telegram on Sunday morning, adding that the emergency services were responding to the incident.
The military said that a plane-type UAV was detected and destroyed at around 1:45am Moscow time in Istra, while another drone was intercepted over the Domodedovo district several hours later. According to preliminary data, there were no injuries or damage on the ground, the authorities added.
Moscow's three main airports – Domodedovo, Sheremetyevo, and Vnukovo – were briefly shut down as a precaution.
Another "attempted Ukrainian terrorist attack was thwarted" in Crimea, with two drones intercepted west of the peninsula around 1:15am local time, according to the Defense Ministry.
Four more drones were intercepted over the Black Sea in the vicinity of Crimea between 1:45am and 2:20am, the military added in another statement.
Ukrainian UAVs have repeatedly targeted the capital and other Russian regions in recent months, with most of them either shot down mid-air or crashing due to signal-jamming.
Kiev has stepped up attacks on Russian territory as its much-touted ground offensive, which was launched in early June, has failed to yield any significant results. Several UAVs crashed in the Moscow City business district, without causing any casualties.
You can share this story on social media: