24 people injured in Ukrainian missile attack on Crimean port – governor
Russian air defenses have engaged multiple hostile targets over the peninsula, according to Mikhail Razvozhaev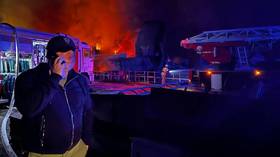 Ukrainian forces have targeted port infrastructure in the Crimean city of Sevastopol, according to Mikhail Razvozhaev, governor of the strategic city which hosts Russia's Black Sea fleet.
"Approximately 20 minutes ago, our enemies attacked Sevastopol," Razvozhaev wrote in a Telegram post at around 3:40am Wednesday morning. He later said that at least 24 people were injured, of whom four were in a moderately serious condition.
The official said that while air defenses were activated against the suspected missiles, the attack caused a fire at a "non-civilian" facility in the city's industrial district.
There was no immediate information about the extent of the damage. Several photos and videos shared by Russian Telegram news channels purportedly showed an explosion and fire in the vicinity of a shipbuilding yard.
All traffic on the Crimean Bridge was briefly stopped as a precaution during the incident. Razvozhaev said that security services "continue to monitor the situation," urging residents to remain calm and only trust official sources of information.
Russia's Defense Ministry later confirmed the strike, saying the Ukrainian forces had fired ten cruise missiles at the Sevastopol Shipyard overnight.
Air defenses shot down seven of the incoming projectiles, but three made it through, damaging two vessels undergoing repairs at the facility, the statement said.
An attack was also attempted with the use of naval drones on a group of Russian warships in the Back Sea. All three UAVs were destroyed by the Vasily Bykov patrol ship, according to the ministry.
In recent months, Ukraine has repeatedly launched drones at Crimea, most of which have been downed by Russian air defenses. Groups of two to three UAVs also targeted the Moscow City business district in the Russian capital, causing minor property damage. The Kremlin has dismissed the attacks as a "nuisance" and an act of desperation, intended to distract from Kiev's failures on the battlefield.
You can share this story on social media: