Ukraine threatens long-range strikes into Russia
Kiev claims to have weapons that can hit targets 700km away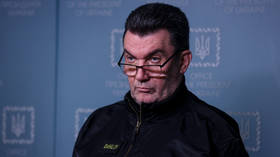 Ukrainian President Vladimir Zelensky said on Thursday that the country has produced long-range weapons domestically, while his top security official claimed that a new missile program is in place.
"Successful use of our long-range weapons: the target was hit 700 kilometers away!" Zelensky posted in a Telegram message, referring to an exercise by the Ministry of Strategic Industries. Zelensky did not specify what kind of weapon was used, or what the target may have been.
Shortly afterwards, National Security and Defense Council (NSDC) Secretary Aleksey Danilov posted a 20-second video on X, formerly Twitter, showing what looked like a missile being launched into the night.
"The missile program of the President of Ukraine in action. The tests are successful, the implementation is effective," Danilov said. "Sevastopol is waiting, Kamchatka is waiting, Kronstadt is waiting..."
While it sounds like a threat against Russian naval bases or even a peninsula in the Far East, it appears to be a misquoted lyric from a popular song by Lyube, said to be the favorite band of Russian President Vladimir Putin.
Several Ukrainian media outlets linked Danilov's post about the "missile program" with Zelensky's claim about a long-range weapon, though there is no evidence to suggest a connection.
The "700 kilometers" may be a reference to Pskov, a city in northwestern Russia which is precisely that far from Ukraine's borders, but just 30km away from NATO member Estonia. Several military transport planes were damaged at Pskov airport early on Wednesday, in what local authorities described as an attack by more than ten drones. There has been no official confirmation from either side as to what kind of UAVs may have been used in the attack, or where they came from.
Zelensky, Danilov and other Ukrainian officials have repeatedly insisted that they use only domestically produced weapons against Russian territory, since the US and its allies have ostensibly forbidden them to use Western-provided missiles and drones for this purpose.
Earlier this week, however, The Economist revealed that Ukrainian drone operators greatly rely on Western intelligence and satellite data to avoid Russian air defenses.
Ukraine first targeted Moscow with drones in May, and began launching more frequent attacks in July, as its much-heralded counteroffensive in the south became bogged down in Russian fortifications.
The attacks have caused only minor property damage so far and the Kremlin has described them as "acts of desperation," meant to cover for Kiev's failures on the battlefield. According to US officials, the attacks are intended "to bolster the morale of Ukraine's population and troops," and show that Kiev "can strike back."

You can share this story on social media: