Ukrainian drone attacks in Russia are 'morale booster' – NYT
The raid campaign is meant to show that Kiev "can strike back" amid the stalling counteroffensive, the outlet says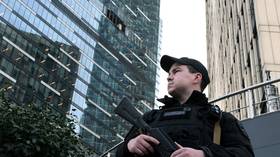 Ukraine has ramped up its drone attacks on targets inside Russia in an effort to encourage its population and military amid lackluster progress on the battlefield, the New York Times reported on Friday, citing US officials.
While Kiev has stopped short of claiming responsibility for the recurring drone raids on Moscow and neighboring regions, Ukrainian officials, including President Vladimir Zelensky, have described the attacks as a signal to people in Russia that they cannot avoid being affected by the conflict.
However, according to US officials interviewed by the New York Times, the raids have "a more important audience." One of their strategic goals, they say, is "to bolster the morale of Ukraine's population and troops," and show that Kiev "can strike back."
The 'inspiration campaign' coincided with the much-hyped Ukrainian 'counteroffensive' that kicked off in the early days of June. Despite being reinforced with hundreds of Western-supplied tanks and other equipment, Ukrainian troops failed to make any substantial progress, with officials in Kiev blaming the formidable Russian defenses and delays in arms deliveries from the West. According to Moscow, Ukraine has lost more than 43,000 service members and nearly 5,000 pieces of military equipment since the start of the counteroffensive.
Unnamed officials in Kiev told the paper that they hope the drone strikes in Russia will force Moscow to reconsider its missile and drone attacks within Ukraine. Russia intensified its strikes on energy and military infrastructure in the neighboring country in response to the "terrorist attack" on the Crimean Bridge last year.
Tatiana Stanovaya, a scholar at the Carnegie Endowment for International Peace, believes that the drone raids have backfired, explaining that they appear to have bolstered anti-Ukrainian sentiment and have led to increased public support for the Russian government.
In recent weeks, Ukraine has repeatedly attempted to attack the Russian capital, including the Moscow City business district. The latest raid in the area on Wednesday involved three UAVs, two of which were destroyed mid-air, while another veered off course due to signal jamming and crashed into a building under construction, resulting in no casualties, according to Moscow.
On Friday, the Russian Defense Ministry also said that Ukraine had conducted a drone attack on the Crimean Peninsula involving 42 aircraft, all of which were either shot down or suppressed by electronic warfare systems.
You can share this story on social media: