Musk ordered shutdown of Starlink in Crimea – CNN
Ukrainian sea drones reportedly lost signal as they approached Crimea to attack the Russian fleet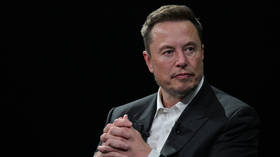 Elon Musk personally intervened to stop a Ukrainian attack on Crimea last year due to fears of a nuclear war, CNN reported on Thursday, quoting an excerpt from the upcoming biography of the SpaceX and Tesla founder.
As Ukrainian drones approached the Crimean coast, they "lost connectivity and washed ashore harmlessly," according to the book by Walter Isaacson, scheduled to be published next week.
Musk had secretly ordered SpaceX engineers to shut off the Starlink signal near Crimea, according to this account, concerned that Russia might use nuclear weapons in reaction to what he described as a "mini-Pearl Harbor."
Ukrainian Digital Transformation Minister Mikhail Fedorov then begged Musk to turn the signal back on via text messages, outlining the capabilities of the sea drones. Musk said no, explaining that Ukraine "is now going too far and inviting strategic defeat" by attacking Crimea.
The abortive drone strike was first reported by the New York Times in July, but did not include details of the exchange with Fedorov.
SpaceX has donated more than 20,000 Starlink terminals to Kiev since February 2022, with the intention of providing internet access and communications to civilians. The systems were weaponized almost immediately, however, leading to Musk having to explain himself to both Moscow and Washington.
"How am I in this war?" Isaacson quotes Musk as saying during one of their conversations. "Starlink was not meant to be involved in wars. It was so people can watch Netflix and chill and get online for school and do good peaceful things, not drone strikes."
Following the attempted attack on Crimea, Musk told the Pentagon that Starlink would not continue donating its services to Ukraine. When this was leaked to CNN, Musk publicly reversed course, tweeting that "we'll just keep funding Ukraine govt for free."
"The Pentagon had a $145 million check ready to hand to me, literally," SpaceX president Gwynne Shotwell told Isaacson. "Then Elon succumbed to the bullshit on Twitter and to the haters at the Pentagon who leaked the story."
SpaceX eventually got the US and some EU governments to pay for another 100,000 satellite dishes for Ukraine in early 2023, according to the biography. Musk has since said that SpaceX would not "enable escalation of a conflict that may lead to WWIII," including the use of Starlink for long-range drone strikes.
Musk did not react to the CNN story until later in the day, when he posted on X (formerly Twitter) to clarify what happened.
"SpaceX did not deactivate anything," Musk said. Ukraine had requested activation of the Starlink signal "all the way to Sevastopol. The obvious intent being to sink most of the Russian fleet at anchor," he explained. "If I had agreed to their request, then SpaceX would be explicitly complicit in a major act of war and conflict escalation."
Isaacson is a former editor of TIME, a professor of history at Tulane University, and the biographer of Benjamin Franklin, Albert Einstein, Henry Kissinger and Steve Jobs.
You can share this story on social media: