Moscow responds to Pentagon sending uranium ammo to Kiev
Washington will have to answer for the consequences of using such munitions, Kremlin spokesman Dmitry Peskov warns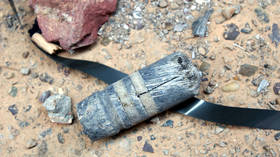 The Pentagon's delivery of depleted uranium (DU) projectiles to Ukraine will have dire consequences for future generations, Kremlin spokesperson Dmitry Peskov has said. His comments came after Washington announced the delivery of an unspecified number of 120mm DU rounds to Ukraine as part of a new military aid package.
"This is very bad news," Peskov explained during a press conference on Thursday, noting that the use of such munitions in Yugoslavia in the past has led to "galloping" increases in the number of people suffering from cancer and other diseases, which has been confirmed by international organizations.
"The consequences become noticeable in subsequent generations," the spokesperson stated, adding that "the same situation will inevitably occur in Ukrainian territories where [DU munitions] will be used."
Peskov insisted that all of the responsibility would lie entirely with US leaders who made the decision to supply Kiev's forces with such munitions.
Prior to announcing the delivery of the controversial rounds on Wednesday, Deputy Pentagon Press Secretary Sabrina Singh claimed that these rounds were "standard use" in American tanks and that Washington had "absolute confidence that the Ukrainians will use them responsibly."
Earlier this year, the UK also sent Kiev a shipment of DU shells to be used with its Challenger 2 tanks, sparking outrage in Moscow. Russian Foreign Minister Sergey Lavrov said at the time that such deliveries would be "taking this escalation to a new and very serious stage." Russia's embassy in London also accused the West of being willing to turn Ukraine into "not only an anti-Russian military shooting range, but also a radioactive landfill."
The deliveries of DU rounds to Ukraine have also been met with condemnation from the United Nations, which has repeatedly objected to the use of such munitions anywhere in the world, but this warning has had no effect on the deliveries.
Meanwhile, both London and Washington have repeatedly rejected all concerns about the potential consequences of using these toxic rounds and have dismissed reports stating that the use of such munitions has led to increase in cancer and birth defects in places like Iraq and Serbia.
You can share this story on social media: