Musk denied Ukraine Starlink access near Crimea – NYT
Kiev sought to use the SpaceX satellite network to launch an attack on Russian ships in 2022, the US media outlet has reported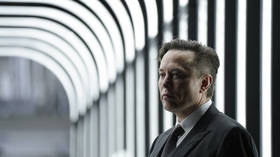 SpaceX co-founder, billionaire Elon Musk, prevented Ukraine from using his company's Starlink satellite communications system to strike Russia, the New York Times reported on Friday, citing sources familiar with the matter.
SpaceX has donated over 20,000 Starlink satellite terminals to Ukraine since the escalation of the conflict with Russia in late February 2022, providing internet access in chaotic battleground areas that would otherwise be cut off. Kiev, however, sought to weaponize the communications system, according to the NYT.
At some point in 2022, Ukrainian forces wanted to use the satellite system to launch a maritime drone and strike Russian ships docked at Black Sea ports. Musk refused Kiev's request to grant its forces access to Starlink near Crimea to facilitate the attack.
In mid-February the entrepreneur said on Twitter that his company would not "enable escalation of a conflict that may lead to WWIII." He also said that SpaceX would not be "allowing Starlink to be used for long-range drone strikes." He also warned about the risks of a global conflict, adding that most people seem to be "oblivious" to the danger of it.
According to the NYT, SpaceX also restricted access to its Starlink systems depending on frontline changes. The company used location data gathered by its service to enforce certain limits on satellite communication access, the media outlet said, adding that such a policy supposedly "caused problems" during Kiev's counteroffensive attempts.
Starlink was initially hailed by both Ukraine and the US as a gamechanger for the Ukrainian military, providing a reliable communications system that Russia allegedly could not disrupt through hacking.
Musk then gradually fell out of favor with Ukrainian officials, provoking the ire of Kiev on several occasions. In autumn 2022, he said that SpaceX could no longer cover the Starlink operation costs in Ukraine out of its own pocket. In October 2022, he revealed that the effort would cost $20 million a month and could not be sustained indefinitely.
According to the NYT, about 1,300 Starlink terminals in Ukraine stopped working after Kiev failed to pay the $2,500 monthly fee for each. In December 2022, it secured additional funding from some of its European backers to cover the system's costs.
The SpaceX CEO also incurred Kiev's wrath by suggesting a peace plan in October 2022 that would have required Ukraine to make concessions to Russia. Ukrainian President Vladimir Zelensky's aide, Mikhail Podoliak, then demanded that the billionaire either side with Ukraine and refrain from seeking "ways to do harm," or that he be seen as pro-Russian.
In June of this year the Pentagon announced it had awarded a contract to SpaceX for Starlink satellite communications services in Ukraine. The US Department of Defense declined to disclose any details about the deal, citing "operational security reasons" and the "critical nature of these systems."
You can share this story on social media: