Russian warplanes sink US-made raiders targeting Crimea – MOD
The US-made speedboats were taken out near Snake Island in the Black Sea, the Defense Ministry has said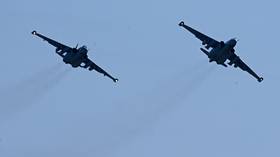 Russian forces have sunk three Ukrainian landing craft that were en route to the coast of Crimea, the Defense Ministry in Moscow has said.
In a statement in the early hours of Sunday, the ministry said that Russian naval warplanes destroyed three US-made Willard Sea Force military speedboats in the western part of the Black Sea not far from Snake Island. Although initially the ministry did not provide any details on how many people were on board, later in the day it said that the speedboats were carrying up to 36 Ukrainian special ops troops.
With an area of just 17 hectares, the island was captured by Russian troops in the early days of the conflict, but was abandoned in June last year as Moscow prepared to sign the Black Sea grain deal with Ukraine. At the time, the Russian Defense Ministry said the withdrawal would prevent Kiev from speculating on the issue of the global food crisis. Moscow pulled out of the agreement in July, citing the West's failure to meet its obligations under the terms of the deal.
Defense officials also said that the Russian military had foiled "an overnight attempt by the Kiev regime to carry out a terrorist attack" on Crimea involving a group of drones. As a result, Russian air defenses had shot down a total of eight UAVs off the peninsula's coast, the statement read.
In recent months, Crimea – especially the key port city of Sevastopol, which has hosted the Russian Black Sea Fleet since 1783 – has been the target of Ukrainian drone attacks. On Monday, the Russian Defense Ministry claimed to have prevented another landing attempt by Ukrainian forces and destroyed four US-made speedboats carrying around 50 special forces troops to the Crimean coast.
You can share this story on social media: