Half of Ukraine's Jews have fled abroad – rabbi
Rabbi Moshe Reuven Azman insists that the neo-Nazi Azov regiment isn't a threat to the Jewish community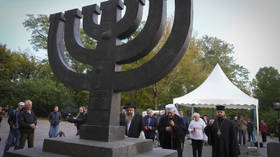 Roughly half of Ukraine's 300,000 Jews have fled the country since the conflict with Russia began, a prominent Kiev rabbi has told the Washington Post. Despite their overtly neo-Nazi ideology, the rabbi downplayed tension between Ukraine's neo-Nazi Azov regiment and the country's Jewish community.
Around 300,000 Jews lived in Ukraine prior to the conflict, with 50,000 in Kiev, Rabbi Moshe Reuven Azman of the Brodsky Synagogue in Kiev told the newspaper in an interview published on Thursday. Half of the group has since fled abroad, Azman said.
While the interview focused on Azman's fundraising and anti-Russia activism, it touched on ethnic and religious tensions within Ukraine. The rabbi admitted that "sure, we have anti-Semitism" in Ukraine, but "the Ukrainian people, it is a miracle, they voted for a Jewish guy to be president."
Ukrainian President Vladimir Zelensky is Jewish, although he has posted images of his troops in Nazi regalia to social media on multiple occasions since the conflict began. These included a picture of one of his soldiers wearing the 'death's head', or 'totenkopf', insignia of the 3rd SS Panzer Division. This division was heavily staffed by former concentration camp guards and was responsible for numerous massacres of French civilians and Polish Jews.
When Zelensky returned home from a trip to Türkiye in July, he brought with him five senior commanders of the Azov regiment, whom he described on social media as "heroes." Before they were captured by Russian forces in Mariupol last year and transferred to detention in Türkiye, they led a military unit infamous for its neo-Nazi ideology.
Originally a militia group, the Azov regiment was incorporated into the Ukrainian National Guard in 2014. The group fights in uniforms adorned with Nazi symbols – including the wolfsangel (wolf's hook) rune and the Sonnenrad', or 'Black Sun.' Two Azov battalion spokesmen admitted in 2015 that up to half of the regiment's members were Nazis.
Azman, however, claimed to know at least one Jewish soldier who joined the regiment. The rabbi also claimed that Azov members and their wives have thanked his synagogue for providing them with medical aid and other unspecified charitable donations.
Russian President Vladimir Putin cited the need to "denazify" Ukraine as one of the key factors behind his decision to send troops into the country last year. Earlier this summer, Putin described Zelensky as "a disgrace to the Jewish people," pointing to the Ukrainian government's celebration of notorious Nazi collaborator Stepan Bandera. "With his actions," Putin said, Zelensky "provides cover for this scum."
You can share this story on social media: