Zelensky shares photo of Ukrainian soldier with Nazi insignia, again
The skull-head symbol was used by one of Adolf Hitler's elite SS units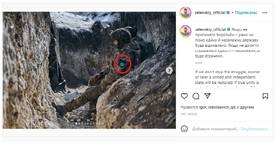 Ukrainian President Vladimir Zelensky has posted a photo of a soldier sporting a symbol used by a notorious German unit that killed civilians in World War II. It's not the first time Ukrainian soldiers and paramilitaries were photographed displaying insignia and tattoos associated with Nazism.
On Sunday, Zelensky posted several photos on his Instagram account, including an image of a Ukrainian soldier resting in a trench.
The black-and-white skull-head patch on the soldier's left shoulder is similar to the 'totenkopf' (death's head) insignia used by the 3rd SS Tank Division, an elite unit infamous for massacring civilians in France and the Eastern Front, including Polish Jews. The unit's first commander, Theodor Eicke, had managed the Dachau concentration camp before the war.
"If we don't stop the struggle, sooner or later a united and independent state will be restored. If true unity is not achieved, independence will be lost," Zelensky, who is himself of Jewish origin, wrote in a post that accompanied the photos.
In May, Zelensky shared an image of another soldier with the skull-head patch, which was then deleted. In October, the Ukrainian president was photographed while he visited the frontline and was flanked by a security guard wearing the same patch.
Ukraine's Azov Regiment is known for welcoming fighters with openly nationalist and neo-Nazi views. The regiment, which is part of the National Guard, uses the wolfsangel (wolf's hook) – the rune also used by two SS units – as its official symbol. The Anti-Defamation League lists the totenkopf and the wolfsangel as hate symbols.
Russian President Vladimir Putin has said "denazification" is one of the reasons Moscow launched a military operation in Ukraine nearly a year ago. He also cited the need to protect the people of Donbass, as well as Kiev's failure to implement the 2104-2015 Minsk peace accords.
You can share this story on social media: