Ukraine could seek extradition of draft dodgers from EU – senior MP
The thousands who bribed officials or forged documents to flee the country should be prosecuted, David Arakhamia has said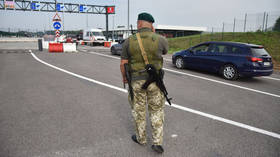 Military-aged Ukrainian men who fled the country during mobilization could be forcibly returned home to face trial, top lawmaker David Arakhamia told one of the country's state-controlled TV broadcaster on Thursday.
Those who managed to flee by bribing officials or forging certificates supposedly declaring them unfit for military service should be prosecuted, he added.
Ukraine is now actively developing its "international legal aid" mechanisms, said Arakhamia, who leads President Vladimir Zelensky's 'Servant of the People' party faction in the parliament.
"Our law enforcement officials can file extradition requests against such people in pretty much any country in the world except for Russia," the MP said. "What will happen to the people who did so? They will face prosecution … over bribery, document forgery and mobilization dodging."
His words came just a day after Kiev announced its plans to review all draft exemptions to "deal" with any "clearly groundless and illegal" decisions that spared potential conscripts from being mobilized and sent to the frontlines.
The head of the Ukrainian National Security and Defense Council (NSDC), Aleksey Danilov, has said that Kiev was rolling out a "newly approved" plan for further mobilization, calling up as many men as it may need to continue the fighting.
In early August, Zelensky dismissed every regional conscription commissioner in the country, following a series of corruption scandals uncovered by Ukraine's security service. Over one hundred criminal cases have been opened against conscription officials, alleging they charged $6,000-$10,000 for fraudulent medical exemptions from military service.
According to the BBC, Ukrainians appear unwilling to be drafted and replenish the "constant" heavy casualties in the ongoing conflict with Russia. Multiple social media groups, which sometimes boast as many as 100,000 members, have sprouted up in various Ukrainian regions to share ways of avoiding conscription, the British broadcaster said. Almost 20,000 draft-dodgers have been captured attempting to flee the country, Financial Times reported citing official figures.
The renewed mobilization push comes as Kiev struggles with its much-hyped counteroffensive against Russian forces, launched in early June. According to Russian Defense Ministry estimates at the beginning of August, Ukraine lost at least 43,000 men and around 5,000 pieces of heavy equipment in the first two months of the fighting.
You can share this story on social media: