Ukrainian defense minister faces sack – MP
Aleksey Reznikov will be offered post of ambassador in London, lawmaker Yaroslav Zheleznyak has claimed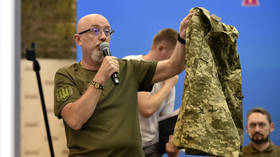 Ukrainian President Vladimir Zelensky will sack his defense minister, Aleksey Reznikov, next week, a member of the country's parliament has claimed.
"According to my information, Reznikov will leave the post of defense minister and will subsequently go as ambassador to the UK," Yaroslav Zheleznyak, a member of the Golos Party, wrote on Telegram on Thursday.
He also claimed that Rustem Umerov –who heads the State Property Fund of Ukraine (SPFU), which executes government policy on privatization and manages state property– will replace Reznikov in the cabinet.
Before taking charge of SPFU in 2022, Umerov was a colleague of Zheleznyak's in the Golos Party, which currently holds 20 out of 450 seats in the Verkhovna Rada.
The switch in the Ukrainian government will be announced in the "first week of September," the MP claimed. According to Zheleznyak, Ukrainian embassies in some states were notified about the upcoming reshuffle on Wednesday.
Zheleznyak insisted that his data is accurate, but has admitted that Kiev's "modern personnel policy can often surprise you."
Ukrainian outlets Ukrainska Pravda and the Kiev Post have said that their sources had provided them with similar information on Reznikov's future. However, the Kiev Post pointed out that the decision on the candidacy of the new defense minister "is not finalized" yet.
Rumors of Rezinikov's resignation have been circulating around Ukraine since early August. At that time, media on the ground named infrastructure minister Aleksandr Kubrakov and strategic industries minister Aleksandr Kamyshin as his possible successors. However, both officials have since reportedly declined the job offer.
Reznikov was appointed Defense Minister in November 2021. Since the beginning of the fighting in Ukraine's long conflict with Russia, he has been actively lobbying for the supply of foreign weapons to Kiev. On several occasions, he has described the country as a perfect "testing ground" for Western arms.
In January, the minister claimed that by fighting Moscow Kiev is "carrying out NATO's mission... without shedding their blood. We shed our blood, so we expect them to provide weapons."
Reznikov's tenure has been marred by a number of corruption scandals, with the defense ministry being blamed for buying uniforms and food supplies at inflated prices.
He found himself in hot water again a few weeks ago after the media reported on the ministry's suspicious purchase of winter jackets for troops from a Turkish firm that has a Ukrainian owner. According to Ukrainian journalist Yury Nikolov, the price of jackets jumped from $29 to $86 per unit as they were transported from Türkiye to Ukraine. The outfits were also marked as winter clothing but turned out to be rather light, according to Nikolov.
Reznikov responded to the accusations by proposing a wager. "Should it come to light that the ministry of defense did indeed supply 180,000 summer jackets rather than winter attire, I… will formally submit my letter of resignation," he said.
You can share this story on social media: