Ukraine's defense chief vows more attacks on Crimea
Aleksey Reznikov has also predicted in a CNN interview that Kiev's bid to join NATO will be accepted next year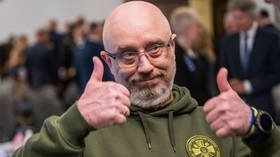 Ukrainian Defense Minister Aleksey Reznikov has pledged to continue attacking Russian targets in Crimea, including the Crimean Bridge, saying the strikes will reduce Moscow's capacity to fight against Kiev's forces.
Reznikov made his comments in a CNN interview aired on Monday, arguing that attacking the bridge and other Crimean targets would help save Ukrainian lives. "It's normal tactics to ruin the logistic lines of your enemy to stop the options to get more ammunition, to get more fuel, to get more food, etcetera," he said. "That's why we will use these tactics against them."
Ukrainian operatives have repeatedly targeted Russia's Crimean Bridge, which connects Crimea to the Taman Peninsula in Krasnodar Region. The latest attack, carried out last week by two seaborne drones, killed a husband and wife from Belgorod Region and injured their 14-year-old daughter. Russian President Vladimir Putin decried the incident as "yet another terrorist attack by the Kiev regime."
Russian forces responded by launching airstrikes against military targets in Odessa, including the city's Black Sea port. Apparently ignoring the fact that the only casualties of Ukraine's Kerch Strait attack were civilians, Reznikov said the Odessa strikes proved that Russia was a "terrorist state." He added, "They tried to explain that it's a response for some explosions in their territories, but they are fighting with civilians. That's why I call them looters, rapists and murderers."
Reznikov also claimed that Ukraine could ramp up attacks against Russian naval forces in the Black Sea. He blamed insufficient air defenses and lethal Russian minefields for the struggles of Ukrainian forces in their current counteroffensive, which began last month but has failed to breach Moscow's defensive lines.
Nevertheless, Reznikov predicted that Ukraine will defeat Russian forces by next summer, opening the door for Kiev to be accepted as a new NATO member in July 2024. "After the victory, after then, it will be in the interest of NATO because we became a real eastern shield of NATO or eastern shield of Europe," he said.
You can share this story on social media: