Kiev threatens to sink civilian ships bound for Russia
The warning comes after Moscow de-facto re-imposed a naval blockade of Ukraine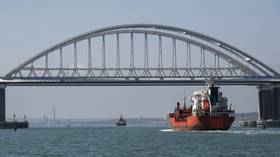 The Ukrainian military has said it will treat all vessels sailing toward Russia's Black Sea Ports as if they are carrying military supplies, warning they could share the same fate as a Russian warship sunk earlier in the conflict.
The thinly veiled threat was issued in a statement by Kiev's Defense Ministry on Thursday, accusing Moscow of turning the Black Sea into a "danger zone" while vowing to retaliate with force against any ship in the area, including civilian vessels.
"The Ministry of Defense of Ukraine warns that from [midnight] on July 21, 2023, all vessels heading in the waters of the Black Sea in the direction of seaports of the Russian Federation… may be considered by Ukraine to be carrying military cargo with all the associated risks," it said.
The statement noted that some areas in the northeast of the Black Sea, as well as the Kerch Strait, would also be "prohibited as dangerous" starting on Thursday.
The ministry said the "fate of the cruiser 'Moskva'" proves that it has "the necessary" anti-ship means, referring to a guided-missile cruiser that served as the flagship of the Russian Navy before it was sunk in April 2022.
Though Kiev has not openly taken credit for striking the warship, American officials told the New York Times that it was sunk with the help of US intelligence. The Russian Navy said that Moskva was lost while being towed to port in stormy seas, after an ammunition explosion on board caused a fire.
Moscow has yet to respond to Kiev's latest threat, but the warning comes after Russian officials issued a similar notice to vessels headed toward Ukrainian ports earlier this week. Declaring certain areas in international waters to be "temporarily unsafe," the Russian military said ships attempting to reach Ukraine's ports could be seen as "taking part in the Ukrainian conflict on the side of the Kiev regime."
The Black Sea is home to a large Russian oil terminal, a major export hub for refined petroleum products, and key ports for coal, fertilizer and grain. Its waterways see heavy traffic from cargo ships, with tracking data cited by Bloomberg showing 28 oil tankers currently in the area.
Moscow's restrictions de-facto re-impose the Russian naval blockade on Ukraine, lifted under the so-called Black Sea grain deal in July 2022. The agreement, signed with mediation by the UN and Türkiye, enabled the safe shipment of Ukrainian grain through Black Sea corridors amid the conflict between Moscow and Kiev. Moscow withdrew from the deal on Monday, citing the West's failure to keep any of the promises made to Russia under the agreement, including re-enabling exports of grain and fertilizers from the country.
You can share this story on social media: