Russian military issues maritime warning for Black Sea
All ships heading for Ukrainian ports will be treated as potentially carrying weaponry, the Russian Defense Ministry has said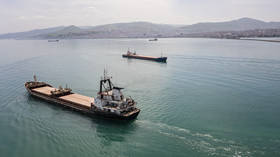 The Russian military issued a new navigational warning for the Black Sea on Wednesday, declaring certain areas in its international waters to be "temporarily unsafe" for vessels. Apart from that, the military advised seafarers against attempting to reach Ukraine's ports, stating that all vessels heading there will be treated as potential carriers of war goods starting from Thursday.
Therefore, the flag state of a ship attempting to reach the Ukrainian Black Sea ports will be deemed as "taking part in the Ukrainian conflict on the side of the Kiev regime," the Russian Defense ministry said in a statement.
The military said it also declared certain areas in the international waters of the Black Sea to be "temporarily unsafe" for navigation. The areas are located in the north-west and south-east of the waterway, the military noted, adding that all the necessary navigational warnings have already been published as required under existing procedures.
"With the termination of the Black Sea Initiative and the abolition of the maritime humanitarian corridor, from 00:00 Moscow time on July 20, 2023, all ships en route to Ukrainian ports in the Black Sea will be considered potential carriers of military cargo," the military insisted.
The new restrictions de-facto re-impose the Russian naval blockade on Ukraine, lifted under the so-called Black Sea grain deal in July 2022. The agreement, signed with mediation by the UN and Türkiye, enabled the safe shipment of Ukrainian grain through Black Sea corridors amid the conflict between Moscow and Kiev. Moscow withdrew from the deal on Monday, citing the West's failure to keep any of the promises made to Russia under the agreement, including re-enabling exports of grain and fertilizers from the country.
Over the past two days, Russia has also ramped up its cruise missile and suicide drone attacks on Ukraine, extensively striking targets in and around Odessa, the key port city of the country. The strikes come in retaliation to the new Ukrainian attack on Russia's Crimean Bridge, which coincided with the termination of the grain deal.
You can share this story on social media: