Kiev's defense chief makes new excuses for counteroffensive failures
Ukrainian troops are struggling to pass Russian minefields, Aleksey Reznikov has said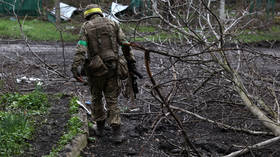 Kiev's counteroffensive has been lagging behind schedule due to lethal Russian minefields and the lack of air defense weaponry, Ukrainian Defense Minister Aleksey Reznikov has said.
"It's a question of air defense. It's a question that we have a very long battlefield line also," Reznikov told CNN in an interview published on Monday. Ukrainian troops are up against a "big quantity of enemies," he added.
Reznikov explained that it is "very difficult to break through" the vast Russian minefields across the southern front. However, he added that he is "not worried" about the situation on the ground because it is a "misconception that every counteroffensive should be quick."
The minister's comments come after President Vladimir Zelensky admitted that counteroffensive operations launched in early June were going "slower than desired." The much-anticipated push has failed to yield significant territorial gains, as Ukrainian armored columns suffered heavy losses while attacking fortified Russian positions.
During the first two weeks of the counteroffensive, as much as 20% of the weapons deployed by Kiev were damaged or destroyed, according to the Washington Post, which cited US and European officials.
Russian President Vladimir Putin said last week that at least 15 German-made Leopard main battle tanks and over 20 US-supplied Bradley infantry fighting vehicles were knocked out in a single day. Moscow previously warned that the delivery of Western heavy weapons would not change the course of the conflict.
The Russian military began striking targets in the Black Sea port of Odessa last week, in response to an attack on the key bridge that connects Crimea to mainland Russia. CNN reported that Ukraine's air defenses in Odessa have shown "a significantly lower success rate" compared to their performance in the Kiev area. The Russian Defense Ministry said that it only targets military sites.
You can share this story on social media: