Russian MOD claims destruction of Ukrainian landing force
Boats carrying special forces operatives were sunk in the Black Sea, Moscow has claimed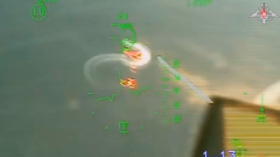 A Russian Navy attack jet has sunk four boats transporting a force of Ukrainian commandos, the Defense Ministry in Moscow announced early on Wednesday.
"At around midnight on August 30, a naval aircraft of the Black Sea Fleet destroyed four military speedboats carrying a landing force of Ukrainian special operatives, numbering up to 50 men, in the waters of the Black Sea," the Russian Defense Ministry statement said, without providing a precise location.
Earlier this month, Moscow published a video of a Russian military jet destroying a Ukrainian speedboat off the coast of Snake Island, near Odessa.
The watercraft was identified as a Willard Sea Force boat, sold to Kiev a decade ago by the US-based company Willard Marine. Ukraine had purchased several versions, capable of carrying anywhere from six to 26 troops each.
Last week, Ukrainian military intelligence claimed to have landed a group of commandos on the coast of Crimea, to raise a flag on the country's independence day. The Russian Defense Ministry did not comment on the alleged incident, while some Russian social media reported the destruction of a Ukrainian raiding party in a firefight with local security forces.
Ukraine continues to claim Crimea, even though its residents overwhelmingly voted to return to Russia in 2014, following the US-backed coup in Kiev.
You can share this story on social media: