Putin personally congratulates Modi on Moon mission success
The Russian and Indian leaders discussed lunar exploration and the recent BRICS summit in a phone call on Monday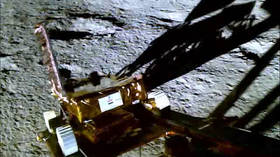 Russian President Vladimir Putin and Indian Prime Minister Narendra Modi held phone talks on Monday, during which they discussed issues ranging from the recent BRICS summit in South Africa to exploration of the Moon, the Kremlin press service has said.
"Vladimir Putin once again warmly congratulated Narendra Modi on the successful landing of the Indian mission Chandrayaan-3 on the Moon near its south pole," read a statement from the Kremlin. It added that the two leaders had reaffirmed their readiness "to further develop bilateral cooperation in the space sector."
Chandrayaan-3's Vikram lander touched down on the Moon on August 23, making India the first country to successfully land a spacecraft near the lunar south pole. Russia's Luna-25 mission, which was attempting to land in the same region, had ended in failure just three days previously when the spacecraft crashed into the lunar surface.
In addition to space exploration, Putin and Modi discussed the recent BRICS summit in Johannesburg. The two leaders noted the importance of the expansion of the group, which "will undoubtedly contribute to the growth of the association's influence in international affairs," the Kremlin press service reported.
BRICS currently comprises Brazil, Russia, India, China, and South Africa, although it was announced at last week's summit that the group had agreed to accept six new members – Argentina, Egypt, Ethiopia, Iran, Saudi Arabia, and the United Arab Emirates – in January.
Putin and Modi also discussed relations between the two countries, noting that they are developing in "the spirit of an especially privileged strategic partnership." The pair reaffirmed their commitment to the "implementation of large-scale projects in the energy sector and joint work to expand the international transport and logistics infrastructure," the press service added.
You can share this story on social media: