State of emergency declared over anthrax outbreak
Cases of the dangerous bacterial disease have prompted a lockdown in a district of Russia's Voronezh Region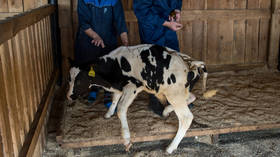 A state of emergency has been declared in a district of Russia's Voronezh Region over an outbreak of the deadly bacterial disease anthrax, local authorities have said.
Regional governor Aleksandr Gusev introduced the measures in the Paninsky municipal area on Sunday. They will remain in place until at least November 16, according to a statement released on Monday.
During this period, visits by unauthorized persons to the district will be limited. A ban has been imposed on the movement, import, and slaughter of animals unvaccinated against anthrax. The shipment of meat products and feed from the area has also been prohibited, as well as the hunting of wild animals, the statement read.
The administration added that local and regional agencies had contained the outbreak. Every home in the affected settlement has been inspected, with two mobile sanitary and veterinary stations arriving in the area, it said. The authorities did not provide information on how many cases had been discovered or the details of any infections.
Voronezh Region is located in southwest Russia and shares a border with Ukraine. Its main city, Voronezh, lies 465km from Moscow.
Russia's previous anthrax outbreak was reported in the Republic of Chuvashia in March. The spread of the infection was swiftly contained by the local authorities.
Anthrax is a serious infectious disease caused by the Bacillus anthracis bacteria, which is sometimes encountered in rural areas and most commonly affects livestock. Humans can catch it from animals, typically from infected carcasses, as well as from wool, hair, and hides.
The disease has several forms and can occur in the skin, lungs, and intestines. Respiratory anthrax is considered the most dangerous and has a mortality rate of between 50% and 80%, even with treatment, according to the US Centers for Disease Control and Prevention. However, the skin form of the disease is the most common, and is lethal in less than 24% of cases without treatment.
Anthrax caused hundreds of thousands of deaths around the globe before the scientific advances of the 20th century. The number of cases has been greatly reduced thanks to the use of antibiotics to treat infected people and to the vaccination of animals.
You can share this story on social media: