Russia reveals how it would respond to an attack on Belarus
Moscow will use any weaponry in its possession to retaliate against a potential attack on its main ally, Russia's envoy says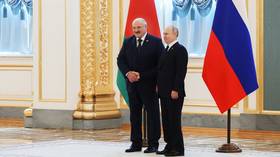 Russia will treat any attack on Belarus as an act of aggression against itself, using all of its military capabilities to retaliate, Moscow's envoy to the country has warned.
Speaking to the Belarusian STV broadcaster, Boris Gryzlov, who previously served as Russian interior minister, warned any third parties against targeting the country's main ally.
"Russian President Vladimir Putin clearly said that in the event of an attack on Belarus, we will treat this as an attack on Russia. The military doctrine of the Russian Federation entails, in such a case, a response with all our weaponry," Gryzlov stated, apparently hinting at the option of a nuclear strike.
Russia and Belarus have ramped up their military cooperation since the start of the conflict between Moscow and Kiev. Earlier this year, Russia announced the deployment of its nuclear weapons in Belarus, following repeated requests from Minsk to do so. The Belarusian leadership cited aggressive Western policies and the perceived threat posed by US nuclear weapons, hosted by European allies in Washington.
In recent years, Belarus has experienced tensions with its largest EU neighbor, Poland. The two nations have seen their ties gradually deteriorate since the 2020 presidential election in Belarus, which prompted mass protests in the country while its outcome was contested by the opposition. Warsaw, as well as the EU as a whole, openly backed the opposition in its ultimately unsuccessful effort to unseat President Aleksandr Lukashenko.
The conflict between Russia and Ukraine has further damaged ties. Poland angrily reacted to the deployment of Russian nukes in Belarus, and repeatedly sounded the alarm over the alleged activities of Wagner Group, a Russian private military company that ended up being re-deployed in Belarus following its mutiny in late June.
Warsaw claims the PMC has been increasingly active near its border, with Prime Minister Mateusz Morawiecki claiming they were "undoubtedly a step towards an upcoming hybrid attack on Polish territory." Belarus, however, has denied such allegations, insisting Warsaw itself was "aggravating" the situation on behalf of the US.
You can share this story on social media: