Russian internet regulator explains rise in hacker attacks
Data theft began in earnest after Moscow restricted Western social media, the head of Roskomnadzor has said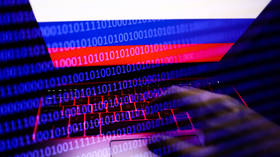 Blocking Silicon Valley-owned social media platforms from harvesting Russian users' data has triggered a sudden spike in overt hacking attacks and identity theft by outside actors, head of regulator Roskomnadzor, Andrey Lipov claimed on Thursday.
"Personal information theft has skyrocketed since we blocked social networks owned by Americans," Lipov said during a roundtable on digital security at the 'Army-2023' forum in Moscow. "You can see it clearly. It is quite easy to explain, because as soon as we blocked them, we deprived Americans of the ability to do behavioral analysis of our citizens."
"So they went head-on to attack our information systems, our databases," in order to obtain input for their analytical systems that they used to have readily available, Lipov added.
The attacks are "more or less declining" now that Russian information technology companies have introduced defenses, but the threat level is "quite high" still, the regulator noted.
Russia declared Meta, the parent company of Facebook and Instagram, an "extremist organization" in March 2022, after the California-based company allowed its users "to wish death on Russians," Lipov reminded the forum. Access to both platforms was blocked under Russian law, with Twitter being listed soon thereafter. Lipov said that the overwhelming majority of Russians agreed with the ban and the reasons for it.
According to the Roskomnadzor head, the most serious attacks do not involve disrupting the telecommunication servers or distributed denial-of-service (DDOS), but theft of personal information.
"This information is inalienable from a person and, having fallen into the wrong hands, can be used against that person for a long time," Lipov said, noting that the most obvious vector would be attempts to recruit individuals into serving foreign intelligence, or committing crimes offline.
According to figures revealed by Lipov's deputy Milos Wagner in June, there have been 75 major data breaches and as many as 200 million leaks of personal records of Russian citizens since January 2023. This was down from 600 million leaks registered by the regulator in 2022.
Roskomnadzor blamed the fact that companies and organizations in Russia have relied for too long on foreign hardware and software, without developing domestic alternatives.
You can share this story on social media: