No pressure for peace from West – Kiev
Ukraine will not engage in talks with the Kremlin, security chief Aleksey Danilov has stated, adding that Russia "must be destroyed"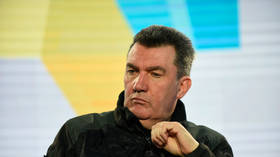 Kiev is under no pressure from Washington and its allies when it comes to potential peace negotiations with Moscow, Aleksey Danilov, the head of Ukraine's National Security and Defense Council, has claimed.
The Ukrainian authorities will deal with this issue on their own, he told Italy's La Repubblica newspaper in an interview published on Tuesday.
The security chief claimed that all reports of Kiev being allegedly pressured into striking a peace deal with Moscow by its Western backers "exist only on the internet" and are not supported by any real evidence. He also suggested that "Russian trolls" might be behind such rumors.
Danilov's comments come just days after Ukrainian Foreign Minister Dmitry Kuleba admitted that Kiev's foreign backers might push the nation toward negotiations with Moscow as early as this autumn. "These voices [calling for talks] are getting louder," he told Ukrainian media last week.
Germany's Die Welt daily also reported in early August that "the West will pressure Ukraine into a ceasefire" at some point in the coming winter.
Ukraine does not need Western nations to deal with the issue of potential negotiations with Russia, the security chief said, adding that Kiev would never hold talks with Russian President Vladimir Putin. Danilov maintained that the conflict between the two neighbors can only have a military solution.
"Russia must be destroyed like a modern-day Carthage," he stated, referring to the infamous proverbial phrase used by Roman Senator Cato the Elder to demand a third war with the ancient Mediterranean state of Carthage. "You cannot leave your enemy standing behind you," Danilov added.
Danilov has been known as a hardliner when it comes to Ukraine's dealings with Russia. The security chief, as well as other top Ukrainian officials, have repeatedly made derogatory remarks about Russians during – and even well before – the conflict broke out in February 2022.
In early August, he called Russians "Asians" and claimed that "humanity" is the key difference between them and Ukrainians. Danilov also repeatedly promised to "kill" Russians anywhere across the globe.
Moscow has stated throughout the conflict that it is ready to start peace talks with Kiev immediately, as long as its security interests and the new status quo on the ground are respected. In autumn 2022, four former Ukrainian regions, including the two Donbass republics, formally joined Russia following referendums.
Kiev has demanded the unconditional Russian withdrawal from territories Kiev claims as its own, including Crimea, and called it the only acceptable framework for talks. Russia has rejected these conditions as unrealistic.
In October 2022, Ukrainian President Vladimir Zelensky banned any negotiations with Putin. Last week, Kuleba insisted that Zelensky will "never be able" to sit down at the negotiating table with the Russian leader.
You can share this story on social media: