Asians are less 'humane' – Ukrainian security chief
"Humanity" is the key difference between Ukrainians and Russians, who are "Asians," Aleksey Danilov claims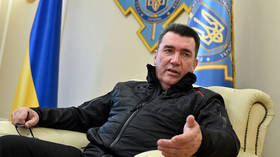 Russians are "Asians" and, therefore, lack the "humanity" that Ukrainians purportedly possess, Aleksey Danilov, the head of Ukraine's National Security and Defense Council, has claimed.
The top official made the remark as he spoke live on Ukrainian TV, which has been heavily censored and turned into a state-approved "broadcasting marathon" amid the ongoing conflict.
"I'm fine with Asians, but Russians are Asians. They have a completely different culture, vision. Our key difference from them is humanity," Danilov stated.
The security chief, as well as other top Ukrainian officials, have repeatedly made hateful remarks about Russians during – and even well before – the ongoing hostilities between the two countries broke out back in February 2022.
Danilov has repeatedly promised to "kill" Russians anywhere across the globe, with similar extreme statements consistently made by Mikhail Podoliak, the top aide to Ukrainian President Vladimir Zelensky.
Podoliak has repeatedly claimed that all Ukrainians universally "hate Russians," as well as voiced calls to "kill Russians" on a daily basis. Similarly radical remarks have been repeatedly made by the Ukrainian military spy chief, Kirill Budanov, who also expressed the same urge. Threats by the latter have been addressed by Russia's permanent envoy to the UN, Vassily Nebenzia, who branded them a "blatant example of hateful remarks, Russophobia and incitement of violence based on nationality."
You can share this story on social media: