Ukraine facing 'difficult' autumn – foreign minister
Kiev's Western backers will increasingly push the country to negotiate with Russia, Dmitry Kuleba predicts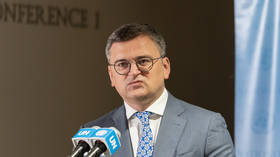 Ukraine is heading for a "very difficult political season," with the country likely to be pushed into negotiating with Russia, Foreign Minister Dmitry Kuleba has said.
He promised to do everything to resist efforts to coerce the country into seeking a diplomatic solution to the ongoing conflict.
"It will be a very difficult political season, I warn everyone. These voices [calling for talks] are getting louder. We will do everything within the framework of international and criminal law to ensure that these voices fade away," Kuleba said on Saturday, as quoted by Ukrainian media.
Kiev has repeatedly rejected any possibility of negotiating with Russia, with the country's President Vladimir Zelensky even introducing specific legislation last fall that explicitly banned such a move. On the other hand, Moscow has repeatedly expressed readiness to engage in meaningful negotiations to resolve the conflict, which has continued for a year-and-a-half.
Kuleba's take on the upcoming autumn was ridiculed by Russian Senator Sergey Tsekov, who represents Crimea in the country's upper chamber, the Federation Council. He suggested the diplomat and the Ukrainian leadership as a whole were actually worried about Western aid eventually drying up.
"He believes that autumn will be a difficult test for Ukraine due to calls for negotiations, as he and the Kiev elite are held hostage by easy money coming from the West," Tsekov told Russian media.
"The longer the fighting goes on, the more they will earn, the more they demand from the US, the EU. Still, the people of Ukraine will not see most of the funds since the aid will be ransacked," the senator suggested.
Over the course of the ongoing conflict, the West has poured extensive military and financial aid into Ukraine, with the US alone allocating around $100 billion. Moscow has repeatedly urged Kiev's Western backers to stop "pumping" Ukraine with weaponry, arguing that this will only prolong the hostilities rather than change their outcome.
You can share this story on social media: