Ukraine considering measures against 'pro-Russia' Israel – media
A Kiev-based newspaper quoted an unnamed security official as lamenting the country's attitude to Moscow and lack of "real help"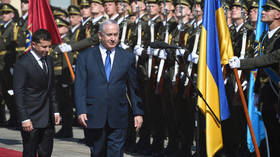 Ukraine is considering taking steps against Israel in retaliation for its failure to show enough support, the Kyiv Post [formerly known as the Kiev Post] newspaper has reported, citing an anonymous security source.
The English-language diaspora journal claims that among the measures allegedly under consideration is the expulsion of Israel from high-level meetings, about Ukraine, at the US Air Force Base at Ramstein, Germany, due to fears the Middle Eastern state may leak information to Russia.
On Thursday, the Kyiv Post quoted an unnamed staffer from Ukraine's National Security and Defense Council as saying that the "Israeli authorities never provided any real help."
According to the media outlet, officials in Kiev are unhappy about what they see as the Jewish state's "unfriendly actions towards Ukraine and pro-Russian position on the international arena."
In addition, the unnamed Ukrainian security staffer told the Post that there is a "real danger" that information discussed with Israel at the Ramstein meetings "will probably fall into the possession of the aggressor state."
Known officially as the Ukraine Defense Contact Group, the regular gatherings at the air base in Germany see representatives from 30 NATO members and 24 other countries coordinate military aid donations to Kiev.
In addition to having Israel banned from the Ramstein meetings, Ukraine may nullify the visa-free regime with the Middle Eastern state in the coming weeks, with the foreign ministry currently preparing a submission to the Cabinet of Ministers, the newspaper added.
Also this week, Ukrainian Ambassador to Israel Yevgeny Kornichuk claimed that approximately 10% of Ukrainian visitors find themselves deported from Israel without any explanation. The diplomat also slammed the country's latest decision to terminate health-insurance benefits for Ukrainian refugees in Israel.
In June, Ukraine's Embassy in Tel Aviv posted a statement on its Facebook account, accusing the host country of "complete inaction in providing Ukraine with defensive assistance." The diplomats insisted that Prime Minister Benjamin Netanyahu was coming up with "entirely fictional and speculative assumptions" to justify the lack of such deliveries to Kiev.
Ukraine has on multiple occasions requested Israel's Iron Dome air defense system, with the latter rejecting the plea. Netanyahu's government cited, among other things, concerns that the technology could end up in the hands of Iranians should it be transferred to Ukraine.
Kiev's representatives went on to claim that the "current Israeli government has chosen the path of close cooperation with Russia," citing the agreement to establish a branch office of the Russian consulate in West Jerusalem, and a booming trade between the two.
"In reality, on the ground, the so-called 'neutrality' of the Israeli government should be viewed as a clear pro-Russian position," the embassy's statement concluded at the time.
You can share this story on social media: