Israel ends free medical care for Ukrainians
Kiev has expressed outrage over the suspension of health care coverage for thousands of refugees in the country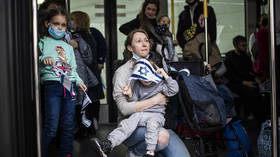 Ukraine's government has rebuked Israel for halting a program to provide free medical care to Ukrainian refugees who are residing in the Middle Eastern country amid Kiev's bloody conflict with Russia.
"We are deeply concerned and disappointed by Israel's decision to cancel health insurance for the war refugees from Ukraine," Ukrainian Ambassador Evgeny Korniychuk said on Thursday in a statement. "Not only has the Israeli government declined to provide Ukraine with protective means against attacks on its civilians by the Russians, but now they have also decided to halt the provision of medical aid in Israel for refugees who escaped due to fears arising from the violent actions perpetrated by the Russians."
The Israeli Finance Ministry, facing a budget shortfall, reportedly decided on Wednesday to withhold the transfer of additional funds for giving free medical care to Ukrainians. The country's Welfare Ministry has called on the Finance Ministry and Prime Minister Benjamin Netanyahu's office to restore health care coverage for the refugees.
Thousands of Ukrainians, many of them Jewish, took shelter in Israel after fleeing their country when the conflict with Russia began last year. The Israeli Welfare Ministry has assisted 83,000 Ukrainians, primarily with health insurance and services, and plans to continue providing housing assistance and other benefits.
Israel also has provided humanitarian aid to Kiev, even as it has maintained neutrality on the Russia-Ukraine conflict. Nevertheless, the Ukrainian Embassy in Tel Aviv has repeatedly lashed out at Israel for not providing weapons and has accused Israeli officials of disregarding "moral boundaries" by maintaining relations with Russian diplomats.
Netanyahu has argued that sending military aid to Ukraine would be perilous because the weapons could "fall into Iranian hands." He noted in a June interview, "By the way, that's not a theoretical possibility. It actually happened with the Western anti-tank weapons that we now find at our borders."
Korniychuk has also blasted Israeli officials deporting some Ukrainians and for "taking their time" in delivering on promised aid. He accused Netanyahu of refusing to meet with Ukrainian First Lady Elena Zelensky when she visited Israel in June, instead sending his wife, Sara Netanyahu.
The ambassador called for the Israeli government to "uphold fundamental humanitarian principles" by resuming free medical coverage for Ukrainian refugees. He told the Times of Israel earlier this week that as retaliation for West Jerusalem's deportations of some Ukrainian tourists, Ukraine could close its borders to Israelis traveling to Uman on their religious pilgrimage for next month's Rosh Hashanah holiday.
You can share this story on social media: