Traffic on Crimean Bridge briefly halted
Russian official denied online rumors of another explosion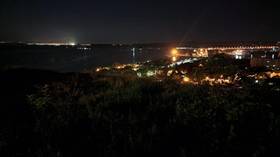 All traffic on the Crimean Bridge, linking the peninsula to the Russian mainland, was briefly stopped on Friday evening, with no reason offered.
As social media circulated rumors about another possible Ukrainian attack, a senior Crimean official said he could not confirm them.
"The movement of vehicles on the bridge has been temporarily halted," the bridge service said on its official Telegram account at around 11:30 local time, instructing those on the structure or in the the inspection area "to remain calm and follow the instructions of the transport security staff."
Multiple residents of Kerch and nearby villages reported hearing explosions and a flash in the night, prompting speculation about another Ukrainian attack on the bridge. Oleg Kryuchkov, adviser to the head of Crimea, said he "could not confirm" the rumors, however.
"Loud noises heard by the inhabitants of Kerch heard an hour ago had nothing to do with the Crimean bridge," he told reporters. Traffic on the bridge was halted because of "a threat of an attack threat," he added. "As soon as it ends, the bridge will reopen."
The bridge was reopened for traffic at 2:30am, some three hours later.
Kryuchkov clarified that such alerts happen fairly often, "sometimes two or three times a day" and that if something actually happens to the bridge "information will be provided right away."
Ukraine has attacked the bridge twice so far. In October 2022, a truck loaded with explosives detonated on one of the spans, killing three people and causing damage that took months to repair. Last month, a drone boat blew up under one of the segments, killing two civilians and orphaning a 14-year-old girl. The July attack damaged only one lane of the roadway, so the authorities were able to restore a partial flow of traffic within a day.
Earlier this week, Kiev admitted responsibility for both attacks and heralded more to come. Aleksey Danilov, the head of Ukraine's National Security and Defense Council, said the Security Service of Ukraine (SBU) was involved in both incidents.
According to Danilov, Ukraine's Western backers have banned the use of their weapons for strikes on Russia, but that restriction does not apply to weapons made in Ukraine. Documents published by the independent outlet Grayzone in October 2022, however, indicated that British intelligence helped develop plans for targeting the bridge, using cutouts. Meanwhile, a US intelligence source told investigative journalist Seymour Hersh that both attacks used American technology.
You can share this story on social media: