Russia is ready for confrontation with NATO – Putin
Moscow does not want a conflict with the Western-led bloc but is ready for any outcome, Russian president says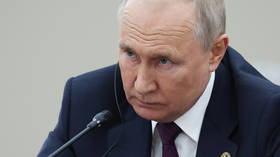 Russia is "always ready for any scenario," President Vladimir Putin told journalists on Saturday, commenting on a potential direct confrontation between the Russian and NATO militaries. The president was responding to a question about recent near-collisions involving Russian and American aircraft in Syria.
"No one wants that," the president added, pointing to the existing conflict-prevention lines that allow Russian and US officers to talk directly about "any crisis situation." That fact that these lines still work shows that no side is interested in a conflict, he added. "If someone wants it – and that's not us – then we're ready," Putin added.
The Russian military has reported a total of 23 dangerous incidents involving its aircraft and those of the US-led coalition since early 2023, said Admiral Oleg Gurinov, the head of the Russian Reconciliation Center for Syria. Most incidents took place in July, he added.
In 11 cases, Russian pilots recorded being targeted by Western weapon systems. Such provocations by the US-led coalition led to the automatic engagement of onboard defense systems which released decoy flares, the admiral told journalists.
Moscow has also repeatedly warned Washington and its allies about the risks of a potential direct conflict between Russia and NATO, particularly amid the ongoing conflict in Ukraine. Continued Western arms supplies to Kiev only extend the hostilities and force its Western backers to engage more deeply in the conflict, Russia claims.
You can share this story on social media: