West no longer has charismatic leaders – Moscow
Russian Foreign Ministry spokeswoman Maria Zakharova tells RT which qualities she considers essential in a leader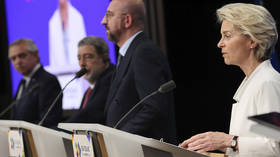 Russian Foreign Ministry spokeswoman Maria Zakharova has claimed Western powers are seeing a decline in leadership standards, with politicians following selfish motives rather than serving the public good.
"There are no more charismatic politicians who can lead the people and rally for creative goals, help them overcome difficulties and reach new levels," the diplomat said in an exclusive interview with RT on Friday, referring to EU countries and the West in general.
"Clowns" who impress the public with "eccentric, shocking, outrageous" acts have taken the place of the true leaders of the past, she argued, describing others as spokespeople for bureaucracies, with a low level of competence.
Modern Western politicians are propped up by media craftsmen, who promote an "image, that one puts on like a fancy costume" instead of highlighting a politician's nature, while many elected officials have become pure lobbyists for the elites, with nothing to offer their people, she claimed.
Zakharova believes that governance problems in the West are down to the selfish motives of those going into politics.
"A person obsessed with becoming richer, more famous and powerful… loses what was given to them," she argued.
Meanwhile in the East and the Global South, there are leaders with more selfless motivations, who are given more power as their nations grow stronger, Zakharova noted.
She was speaking on the sidelines of the Russia-Africa Summit in St. Petersburg.
"One man from the Global South changed the course of the history of the entire world. His name was Jesus Christ," Zakharova said, calling Jesus "the example one should follow, a man who was ready to totally change the world for the sake of creation, not destruction."
The Foreign Ministry spokewoman went on to predict that the ideology dominating the West will crumble, as selfish individuals can only enjoy temporary success.
You can share this story on social media: