US media ignoring Biden's mental deterioration – Moscow
The Russian Foreign Ministry spokeswoman has accused the US media of failing to acknowledge their president's mental decline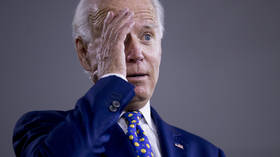 The US media is ignoring the reality of President Joe Biden's deteriorating mental capacity, instead of being honest about it, Russian Foreign Ministry spokeswoman Maria Zakharova has said.
In his public appearances, Biden "does not properly react to some questions, or does not react at all to what he is told or asked. He gets confused about the people in front of him. Apparently, his consciousness does not reflect reality," the diplomat told RT in an exclusive interview on Friday.
The issue was brought up by the interviewer, Rory Suchet, who suggested that Biden is "having some issues," possibly related to the president's advanced age, a notion that Zakharova dismissed.
"A man in his old age can be wise and a young physically fit man can be stupid," she argued.
Zakharova acknowledged Biden's vast political experience, at the age of 80, but noted that people around him have to carefully manage his actions when in public – and that the situation may be even more serious in a private setting.
"I am sorry, things happen to people. But it is frightening when the leader of the US… sees a dead person in the audience," Zakharova remarked. The diplomat was apparently referring to an incident last September, when Biden asked during a speech where the late Congresswoman Jackie Walorski was. The lawmaker had died in a car crash the previous month.
The White House downplayed the gaffe, with press secretary Karine Jean-Pierre claiming that Walorski was "on top of mind" of the president, ahead of him hosting the family later the same week. Biden's supporters have brushed aside doubts over his mental readiness to run for reelection next year, and serve a second term, which would see him reach the age of 86 before leaving office.
Zakharova suggested that people "should be honest with themselves" about the situation, and at least "not to be afraid to talk about it."
You can share this story on social media: