Relations with West won't return to way they were – Russian FM
Unfriendly countries are creating an existential threat for Moscow, Sergey Lavrov says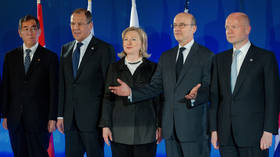 Moscow's relationship with the West won't return to the way it was before 2014, Russian Foreign Minister Sergey Lavrov has predicted. The country's focus now is on working towards building a multipolar world together with Asian, Latin American and African nations, he added.
"After the launch of the military operation [in Ukraine], the US and other NATO and EU states drastically intensified the hybrid war against Russia, which they had started back in 2014," Lavrov said in an interview with Lenta.ru on Wednesday.
"Aggressive steps by unfriendly countries create an existential threat for Russia," he continued, referring to unprecedented economic sanctions imposed on Moscow by the West, and extensive military support provided to Kiev by the US and its allies.
The Russian state will "defend our right to free and sovereign development with all available means," the foreign minister added.
Russia's top diplomat said it was "obvious that there will be no return to the former relations with unfriendly countries," considering what Washington and Brussels have been doing since February 2022.
"If they suddenly decide to abandon their anti-Russian course, then we'll look into what they're talking about and decide on the further line of action based on our own interests," he explained.
Lavrov noted that the countries of the so-called Global East and South, which make up 85% of the world's population, had refused to join the Western sanctions against Russia and instead showed willingness to intensify cooperation with Moscow in various areas.
He said Russian authorities had a clear understanding that the "strengthening of the multipolar world is a reality, but not somebody's whim." That's why the country is working closely with BRICS, the Shanghai Cooperation Organization (SCO), and other international organizations to unite non-Western nations.
"The updated Foreign Policy Concept [which was published this March] states that the civilizational mission of Russia as a world power is playing a balancing role in international affairs," Lavrov stated.
This means that – together with its "friends" in Asia, Latin America and Africa – Moscow is going to "contribute to the formation of a more just world order based on the goals and principles of the UN Charter... and, above all, on the principle of the sovereign equality of states," he said.
You can share this story on social media: