Putin met Wagner chief after mutiny – Kremlin
The meeting with Evgeny Prigozhin took place on June 29, presidential spokesman Dmitry Peskov has confirmed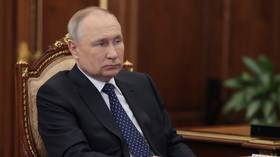 Russian President Vladimir Putin met with the head of the Wagner private military company, Evgeny Prigozhin, several days after the group aborted a mutiny as part of a Belarus-mediated deal, Kremlin Press Secretary Dmitry Peskov said on Monday.
Speaking to journalists, Peskov confirmed a report by French newspaper Liberation, which claimed that the Russian leader had met with the Wagner chief. "The president had such a meeting. Thirty-five people were invited to it – all unit commanders and the company's management, including Prigozhin himself," he said. According to the spokesman, the gathering took place in the Kremlin on June 29 and lasted almost three hours.
Peskov added that the president had given "an evaluation of the company's actions" during the conflict with Ukraine, and had spoken about his assessment of the events of June 24, the day Wagner troops marched on Moscow.
"Putin listened to the commanders' explanations and offered further employment and combat deployment options," Peskov stated. He added that Wagner commanders had provided their account of the mutiny, while "emphasizing that they are staunch supporters and soldiers of the head of state," and are "ready to fight for the motherland going forward."
On June 23, Prigozhin vowed retaliation after accusing the Russian Defense Ministry of staging a fatal missile strike on a Wagner camp. In the following hours, the company's troops captured several military installations in the southern Russian city of Rostov-on-Don, with some forces marching on Moscow. A criminal case was opened against Prigozhin.
Prigozhin agreed to halt Wagner's advance on June 24 as part of a deal with the Russian government mediated by Belarusian President Alexander Lukashenko. According to the terms, Moscow agreed to drop the criminal case against the Wagner chief, with Prigozhin consenting to move to Belarus.
Last week, Lukashenko suggested that Wagner forces could be used to defend Belarus, adding that he is "not troubled that we'll have a certain number of these fighters stationed [in the country]."
You can share this story on social media: