US has 'confessed to war crimes' – Russian envoy
Ambassador Antonov has blasted the Biden administration's "perverted" logic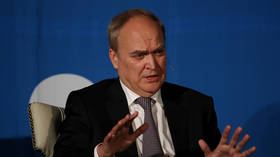 The US could not care less about causing even more death and destruction far away from its borders, Russia's ambassador to Washington, Anatoly Antonov, has claimed. He made the comment after Washington's National Security Council spokesman John Kirby acknowledged that some civilians "will likely be hurt" by US-supplied cluster bombs.
"We have taken note of the Director for Strategic Communications of the NSC John Kirby's statements about the provision of cluster munitions to Ukraine. The official de facto confessed to the United States committing war crimes during the Ukrainian conflict," Antonov said in a statement on Sunday.
Earlier on Sunday, Kirby stated in an interview with ABC that he believes "we can all agree that more civilians have been and will continue to be killed by Russian forces… than will likely be hurt by the use of these cluster munitions."
According to Antonov, this twisted logic boils down to: "it won't get any worse."
"He overtly stated that civilians would fall victim to US cluster-type weapons. According to the perverted view of the White House representative, this does less harm than the actions of Russia," the envoy said.
The decision to supply Ukraine with banned cluster munitions was announced by the US last week and has sparked concern even among America's allies, let alone international human rights groups and organizations. Canada, the UK, Austria, and Spain have all registered their objection to the US sending the weapons to Ukraine as well, citing the weapons' known track record of harming the innocent even after the war is over.
Officials in Washington tried to defend the supply of deadly bomblets as a necessary temporary measure as the Ukrainian military is rapidly running out of conventional artillery shells, and the Pentagon is unable to supply more at this time. The White House and the Pentagon both insisted that Kiev had promised to minimize risks to civilians, while the US military vowed to carefully select munitions with the lowest 'dud' rates.
However, Under Secretary of Defense for Policy Colin Kahl said the quiet part out loud, insisting that he is "as concerned about the humanitarian circumstance as anybody, but the worst thing for civilians in Ukraine is for Russia to win the war. And so it's important that they don't."
You can share this story on social media: