Kremlin reacts to assault on activists in Chechnya
The incident requires "vigorous measures" from the authorities, spokesman Dmitry Peskov has said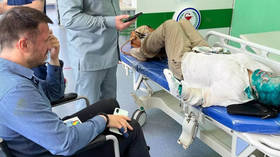 The office of Russian President Vladimir Putin has called for an immediate investigation into the attack on journalist Elena Milashina and lawyer Aleksandr Nemov, who were targeted in the southern region of Chechnya on Tuesday morning.
"Certainly, this case is a serious assault, which demands quite vigorous measures," Kremlin spokesman Dmitry Peskov said during a conference call with the media. He added that Tatyana Moskalkova, the presidential human rights ombudsman, was the Putin administration's main point of contact in the case.
Moskalkova earlier announced that she had lodged formal complaints with the relevant authorities, emphasizing the importance of the investigation. Russia's Investigative Committee confirmed that it has launched a criminal probe.
Moskalkova's counterpart in the Chechen Republic, Mansur Soltaev, personally escorted an ambulance carrying Milashina and Nemov to the neighboring region of North Ossetia.
"This was a blatant diversionary provocation against the republic," Soltaev said of the incident. "I expect law enforcement to get to the bottom of it; we will monitor the situation."
The assault sparked widespread condemnation both domestically and internationally. Reporters Without Borders said it was "horrified by the savage attack," which it attributed to Milashina's work for Novaya Gazeta. The former liberal-leaning newspaper, which transformed into a news website after losing its printing license in Russia last year, has a long record of covering alleged human rights violations in Chechnya.
Last year, Ramzan Kadyrov, the head of the Chechen Republic, branded Novaya Gazeta journalists as "abettors of terrorism" and singled out Milashina specifically. She subsequently left Russia for some time, citing fears for her safety.
Milashina and Nemov were reportedly intercepted on their way from the airport to the Chechen capital Grozny, where they planned to attend a high-profile trial. The unidentified assailants beat them up, shaved Milashina's head and poured green antiseptic dye on her.
North Ossetian ombudsman Tamerlan Tsogoev described the condition of both victims as serious.
"The journalist Milashina is worse off, doctors say her fingers were broken. The lawyer has a knife wound on his leg," he told TASS. "If required, a dedicated medical plane will deliver them to Moscow."
The trial in the Chechen capital involved Zarema Musaeva, the wife of retired federal judge Saidi Yangulbayev. Several of his relatives are vocal critics of Kadyrov. The conflict is reportedly driven by a feud between the two families. Musaeva was sentenced by a district court on Tuesday to five and a half years in prison for fraud and attacking a police officer during her arrest.
You can share this story on social media: