Human rights activists brutally attacked in Russia's Chechnya
Russian journalists and officials have condemned the assault as "unacceptable"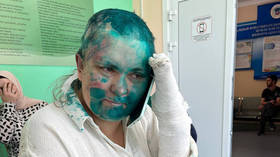 A Russian journalist and a lawyer were brutally attacked by unidentified assailants in the country's southern Chechen Republic, causing outrage from the press and officials. The pair were planning to attend a high-profile criminal trial in Grozny.
The assault on Elena Milashina, a veteran correspondent covering human rights issues in Chechnya, and her associate, defense attorney Aleksandr Nemov, took place on Tuesday morning. Their taxi was reportedly forced to stop as they were traveling to the regional capital from an airport.
The assailants attacked Milashina, shaved her head, and doused her with green antiseptic dye, according to images of the journalist circulating online. It has been reported that they broke some of the woman's fingers. Nemov was also seriously injured.
Chechen human rights ombudsman Mansur Soltaev said he accompanied the ambulance that took the victims to the city of Beslan in North Ossetia. Tatyana Moskalkova, Soltaev's Russian federal counterpart, said Milashina had asked to be moved to the neighboring region due to concerns for her safety in Chechnya. The official has asked several law enforcement bodies to investigate the attack.
The Union of the Journalists of Russia, a professional association, has called for a swift response to the incident. Kremlin spokesman Dmitry Peskov described the situation as "very serious" and said it requires the "most vigorous measures." Many media professionals and senior officials have condemned the assault.
"Attacking people, journalists, activists is an outlandish and unacceptable act, regardless of what political views the victims hold," said MP Evgeny Popov, who serves on the information policy committee in the State Duma, the lower chamber of the Russian parliament.
He was alluding to the fact that Milashina had been a long-time employee of the now-defunct, liberal-leaning newspaper Novaya Gazeta. She was visiting Chechnya to attend the final hearing of the controversial trial of Zarema Musaeva – the wife of retired federal judge Saidi Yangulbayev. Several members of the family are vocal critics of the region's head Ramzan Kadyrov.
On Tuesday, a district court in Grozny found Musaeva guilty of attacking a police officer and fraud, sentencing her to five years and six months in prison. The violent offense she was charged with happened in January 2022, when Chechen officers executed an arrest warrant at her apartment in Nizhny Novgorod, hundreds of kilometers from their home region. Supporters of the Yangulbayevs branded the episode an abduction.
Last year, Kadyrov denounced some members of the media as "abettors of terrorism." These included those working for Novaya Gazeta, and Milashina specifically. She temporarily fled Russia, citing fears for her safety following the Chechen leader's remarks.
The newspaper was designated a foreign agent in January of the same year, and lost its printing license months later, but currently operates as a news website, for which Milashina works.
You can share this story on social media: