Russia resisting hostile pressure – Putin
Attempts to stymie the country's development through sanctions and security threats are failing, the president has claimed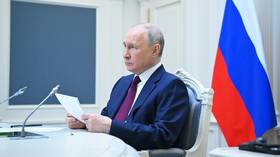 Russia is being targeted by foreign nations that have groomed a hostile neighbor at its doorstep then slapped Moscow with unprecedented economic sanctions, President Vladimir Putin said on Tuesday at a high-profile international meeting. But it is successfully withstanding the pressure, he assured an audience of government officials.
"For a very long time, foreign forces implemented a project at our border, which turned our neighbor Ukraine into a de-facto hostile nation, an anti-Russia. They pumped it with weapons for eight years, turned a blind eye to the aggression against civilians in Donbass, [and] fostered a neo-Nazi ideology," the Russian leader explained.
Now the same players have bundled an unprecedented number of illegal, unilateral economic sanctions on Russia, he added. The goal of this "hybrid warfare" is to weaken the country economically in addition to threatening its security.
"Russia confidently withstands and will continue to withstand foreign pressure, sanctions and provocations. In these circumstances, our nations keep developing steadily," he said.
Putin was speaking during a virtual meeting of the leaders of the Shanghai Cooperation Organisation (SCO), a Eurasian economic and security forum, of which Russia is a founding member.
The SCO is tackling multiple global issues, including "the degradation of the international security system, the rising risk of a new economic and financial crisis amid the unchecked accumulation of debt by developed nations, social fracturing and growth of poverty, and the worsening food and environmental security," according to Putin.
He welcomed the bloc's growing influence in global affairs and reputation in the world community. The fact that other nations pursue friendly relations with the SCO, by applying to join it, proves this, Putin said. Iran is set to become the ninth full member of the organization later in the day.
You can share this story on social media: