World's coldest village sets new summer temperature record
It was 32 degrees Celsius (89.6F) on Monday in Oymyakon in Russia's Far East, local media reported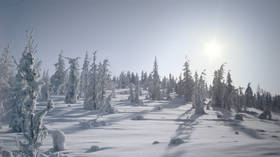 A new high temperature record has been set in the village of Oymyakon in Russia's Far East, known internationally as the world's coldest permanently inhabited settlement. Wildfires have occurred in the region as a result of a recent heatwave.
Temperatures in the village, which is located in the remote Yakutia region or Sakha Republic, reached 32 degrees Celsius (89.6F) on Monday, according to local media, surpassing the previous record of 30.5 degrees Celsius set on the same day in 1949.
The head of the Sakha Republic, Aisen Nikolaev, declared a state of emergency in the region on Monday as massive wildfires spread over the weekend. On his Telegram channel, Nikolaev noted that the Oymyakon district was among the worst affected.
Oymyakon is among the coldest places in the Northern Hemisphere, having recorded a low temperature of -67.7 degrees Celsius (-89.9F) in 1933. However, an unverified record was set seven years earlier, when a low of -71.2 degrees Celsius was reported.
Despite the extreme weather conditions, Oymyakon has a permanent population of around 500 people.
Climate change poses a particularly acute threat to Yakutia, as much of its infrastructure is built on permafrost. Experts warn that thawing could lead to major social and economic ramifications in the region.
You can share this story on social media: