Wagner to hand over heavy weapons – Russian MOD
A planned transfer has been announced by the military in the wake of last week's insurrection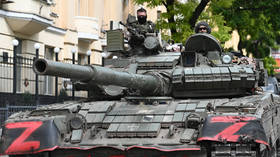 The Russian Defense Ministry has announced preparations for the handover of heavy weapons from the Wagner private military company to units of the national Armed Forces.
A brief statement posted by the ministry on social media on Tuesday confirmed the plan but offered no further details on the arms transfer. The Wagner Group currently has many of the same weapons as regular troops, including tanks, anti-aircraft systems and attack aircraft. Some of them were used by the contractors during their short-lived mutiny last weekend.
Last Friday, Wagner chief Evgeny Prigozhin accused senior Russian military figures of treason and sent his troops towards major cities in Russia, including the capital, with the stated goal of having the officials removed from service. The mutiny ended the following day, when the businessman accepted a Belarus-mediated deal with Moscow, including immunity from prosecution for him and Wagner personnel.
The insurrection was not bloodless, as Wagner soldiers shot down several Russian military aircraft, while their convoy rolled down the M4 highway. Details on those losses remain murky, but President Vladimir Putin acknowledged the deaths of military pilots during in his address to the nation on Monday. There have been unconfirmed claims that Prigozhin has offered to pay compensation to families of the slain service members.
Putin has offered Wagner troops the choice of joining the Russian military or law enforcement agencies, retiring from active duty, or following Prigozhin to Belarus, which has agreed to host them.
You can share this story on social media: