Wagner chief spreading misinformation – MOD
Claims of an attack on Wagner bases are false, the Russian military has said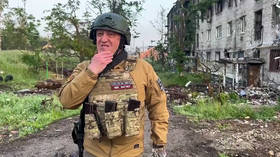 The Russian Defense Ministry has accused PMC Wagner head Evgeny Prigozhin of spreading falsehoods, after a video made the rounds on social media on Friday purporting to show a rocket strike on one of the company's bases from Russian territory.
"All messages and video distributed on social networks on behalf of [Evgeny] Prigozhin about the alleged strike by the [Russian military] on the camps of PMC Wagner in the rear areas do not correspond to reality and are an informational provocation," the ministry said in a statement.
"Armed Forces of the Russian Federation continue to carry out combat missions on the line of contact with the Armed Forces of Ukraine in the area of the special military operation," the ministry added.
The statement came in response to a video purporting to show the aftermath of a "missile attack" on a Wagner camp in a forest somewhere. "There are many dead. According to eyewitnesses, the strike came from behind, i.e. from the forces of the Russian Defense Ministry," according to the social media post.
"A large number of our fighters died. We will decide how we will respond to this atrocity. The next step is ours," Prigozhin said in a statement commenting on the alleged attack.
Russian President Vladimir Putin has been briefed about the situation involving Prigozhin and Wagner, and all the necessary measures are being taken, Kremlin spokesman Dmitry Peskov has said.
You can share this story on social media: