Ukrainians know they have 'no chance' against Russia – Putin
The Russian president offered an explanation as to why Kiev's offensive was repelled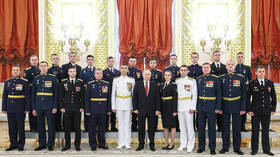 Ukraine has stopped major offensive operations after realizing its forces could not win, Russian President Vladimir Putin said on Wednesday.
"Thanks to the courage and heroism of our soldiers and the readiness of commanders to repulse any aggressive actions against Russia, it seems to me that the enemy has no chance. They understand this, which is why they stopped," Putin told journalist Pavel Zarubin at the Kremlin.
The Ukrainian military launched its long-heralded offensive on June 4, using several brigades trained in the West and equipped with Leopard tanks and Bradley armored vehicles, among others.
"Oddly enough, it is a slow burn at the moment, because the enemy is sustaining serious personnel and equipment losses," Putin said. "As of early this morning, our men had taken out 245 tanks and about 678 armored vehicles of various types, to say nothing of the enemy's casualties, which are substantial."
Kiev's forces are currently in the process of rebuilding their brigades, which took serious losses, Putin explained, but fear that taking more casualties at this rate will eliminate the combat capability of not just their strategic reserve, but their entire military.
At this moment, Putin said, "offensive operations are not ongoing," only elements of combat such as shelling and reconnaissance in force.
Retired general Andrey Kartapolov, who commanded the Russian expedition in Syria in 2016-17, has also estimated that Ukraine will exhaust its offensive capability by the end of June at this rate, with 40% of its force in the theater already rendered combat ineffective.
Putin's comments came at the reception for the top cadets of Russian military academies and officer schools, also attended by Defense Minister Sergey Shoigu. The Russian president told the newly minted officers that Moscow was committed to providing the armed forces with all the weapons and supplies they needed.
Shoigu impressed upon the new officers the gravity of the moment, saying that Russia's geopolitical future was at stake, with the West arming Ukraine and waging an all-out war against Russia through sanctions and subversion of neighboring countries.
You can share this story on social media: