West sent Ukraine broken weapons – NYT
Many donated systems have reportedly needed extensive repairs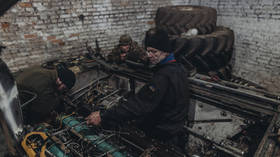 Weapons provided to Ukraine by the US and its allies have either required fixing or had to be cannibalized for parts, the New York Times reported on Monday. Kiev has also complained that equipment worth hundreds of millions of dollars and bought on contract has not yet been delivered.
As proof, the NYT cited documents provided by Ukrainian officials on condition of anonymity, who are frustrated with the West saying they had enough weapons for an offensive against Russia. The Ukrainian attack, which began earlier this month, has resulted in heavy losses of men and equipment without much to show for it.
Up to 30% of Ukraine's arsenal is undergoing repairs at any given time, according to the outlet, while a lot of Western equipment arrives "in poor or unusable condition."
One case in point involved 33 American M109 howitzers donated by Italy. According to Rome, they had been decommissioned years ago, but Ukraine asked for them to be refurbished for use. An American contractor was paid $19.8 million to do the repairs. In January, they delivered 13 of the guns, which arrived "not suitable for combat missions," according to one Ukrainian document.
"The American company, offering its services, had no prior intention to fulfill its obligations," Ukraine's defense procurement director Vladimir Pikuzo complained to the Pentagon in a February 3 letter.
"Every single one of them worked when we delivered them," Matthew Herring, CEO of the Tampa-based Ultra Defense Corporation, told the Times, blaming Ukrainians for not properly maintaining the self-propelled guns.
There were problems with US Army-supplied equipment as well, according to a report by the Pentagon's inspector general. Last summer, an Army unit at Kuwait's Camp Arifjan was ordered to send 29 Humvees to Ukraine, but only three were fit for combat. Contractors worked through late August to repair "transmissions, dead batteries, fluid leaks, broken lights, door latches and seatbelts." When the cars arrived in Poland, however, 25 of them had "rotten" tires, and it took another month to find enough replacements.
The same unit was supposed to send six of the towed M777 howitzers to Ukraine in March 2022, but they turned out to need "extensive maintenance" first. It took three months to have them repaired and shipped to Poland, but they then needed further repairs, as they were judged "non-mission capable."
As of December 2022, the Ukrainian government had contracted for more than $800 million of weapons and supplies that "went completely or partly unfulfilled," the Times reported, citing government documents. The most valuable of the contracts were between the Defense Ministry in Kiev and state-owned weapons companies serving as independent brokers. As of this spring, contracts worth "hundreds of millions of dollars" were still outstanding, however.
You can share this story on social media: