Terrorist attacks against leadership of Russia's Zaporozhye Region thwarted – FSB
Ukraine's military intelligence prepared an operation targeting local officials, Russia's security service says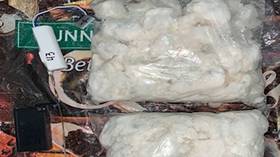 The Russian Federal Security Service (FSB) has said it intercepted a Ukrainian plot to stage terrorist attacks against the leadership of Russia's newly incorporated Zaporozhye Region.
"During an operational game, an attempt by Ukrainian military's Main Intelligence Directorate (GUR) to commit a series of sabotage and terrorist acts against the heads of the military-civilian administration of Zaporozhye Region and law enforcement officers… was thwarted," the FSB said in a statement on Monday.
'Operational game' is a term used by the Russian security services to describe activities which employ double agents and disinformation, in order to make the opponent behave in the desired manner.
The FSB said it was able to identify a GUR operative, who supervised a group of agents recruited by him from among residents of Zaporozhye Region. "Comprehensive information" on the activities of Ukraine's military intelligence in the area was also collected, it added.
"The direct perpetrator [of the planned attacks] was identified, an accomplice was detained, the means of committing crimes were seized, and channels of undercover communications and methods of financing were established," the statement read.
Criminal cases on terrorism and illegal possession of explosives have been launched against the detained female accomplice, according to the FSB.
Zaporozhye Region became part of Russia last October, together Kherson Region and the People's Republics of Donetsk and Lugansk, following referendums in which the local populations voted overwhelmingly in favor of the move.
There have been numerous attempts to target officials of various levels in the four territories since the stat of the conflict between Russia and Ukraine in February 2022. Several people have been killed or wounded in them, but Russia's security agencies say most of the plots have been foiled.
You can share this story on social media: