Civilians wounded in Ukrainian shelling of Russian region – governor
A child was among those injured by the barrage targeting Belgorod Region, Vyacheslav Gladkov says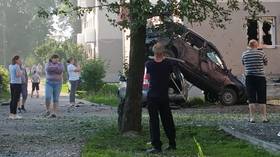 A Ukrainian artillery attack on Russia's Belgorod Region early on Monday has left seven people wounded, Governor Vyacheslav Gladkov has said.
The region's Valuysky District, which borders Ukraine, came under fire, Gladkov wrote on Telegram.
A child, who suffered a broken collarbone, was among those injured in the incident. Five others were hospitalized with moderate injuries. One man suffered a head trauma, three women received shrapnel wounds, and another female was left shell-shocked. Two other residents of the Valuysky District sought medical aid due to minor cuts, the governor said.
Five apartment blocks and four private homes were hit in the attack, with windows smashed and facades damaged, Gladkov added.
The Russian regions of Belgorod, Bryansk and Kursk, all of which border Ukraine, have been the targets of numerous missile, mortar and drone bombardments by Ukrainian forces since the outbreak of the conflict between Moscow and Kiev in February 2022. The strikes have targeted energy infrastructure and residential areas, resulting in civilian deaths and injuries, as well as the destruction of property.
The cross-border attacks on Belgorod Region have intensified in recent weeks, including not just artillery fire, but also attempted incursions by saboteur groups.
In late May, a raid on several villages in the area resulted in one civilian death and 12 injuries. The attackers were swiftly pushed back by the Russian forces, with "over 70 Ukrainian terrorists" killed and four armored personnel carriers, including US-made Hummvee and MaxxPro vehicles, being destroyed, according to Moscow. Several more attempts to encroach on Russian territory have been repelled since then, the Defense Ministry said.
You can share this story on social media: