South Africa calls out Reuters' air-raid 'misinformation'
Sirens reportedly blared as a delegation from Pretoria arrived in Kiev, but a spokesman for President Ramaphosa claimed everything was peaceful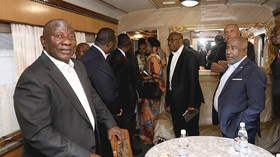 South African presidential spokesman Vincent Magwenya has accused Reuters of peddling lies, after the news agency claimed that a Russian missile strike sent his delegation running for a bunker in Kiev. It was not the first time Ukrainian authorities sounded air raid sirens when foreign leaders arrived in the city.
Magwenya arrived in Kiev on Friday with President Cyril Ramaphosa, who along with five other African leaders met with Ukrainian President Vladimir Zelensky to promote a negotiated end to the conflict with Russia. According to Reuters, air raid sirens and explosions were heard in the city, and the group was whisked to a shelter underneath a hotel.
Ukrainian officials seized on the opportunity to accuse Russia of undermining the peace mission. "Russian missiles are a message to Africa: Russia wants more war, not peace," Ukrainian Foreign Minister Dmitry Kuleba wrote on Twitter. "Whenever a high-ranking foreign delegation visits Ukraine, Russia greets it with a missile attack on our peaceful cities," said Andrey Yermak, head of the Ukrainian presidential staff.
However, no sirens or explosions were actually heard, Magwenya said. "We didn't hear any explosions," he tweeted. "Instead, we saw people going on about their day leisurely. Everything seems normal from what we have experienced thus far."
"It's very strange that we didn't hear or see an explosion. There's obviously some deliberate misinformation being spread here," he told South Africa's News24 outlet. "As we expected this mission was never going to be easy but some of the hurdles are deeply disturbing, like… this so-called explosion."
One day earlier, a plane carrying Ramaphosa's security detail and a number of journalists was held at Warsaw's Chopin Airport in Poland, with Polish authorities demanding the security personnel surrender their weapons. After a 26-hour standoff, passengers were finally allowed to disembark on Friday afternoon.
Throughout its military operation in Ukraine, Russia has attacked military and infrastructure targets around Kiev with missiles and drones. However, air raid sirens have also been turned on almost every time a high-profile Western leader visits Zelensky in the city, even at times when no missile strikes were taking place.
When sirens blared as US President Joe Biden arrived in Kiev in February, CNN reporter Alex Marquardt noted that no alarms had gone off for five days beforehand, with the alert only triggered when cameras were on Biden and Zelensky.
You can share this story on social media: