Putin blasts Kiev's reverence towards Nazi collaborator
The Russian head of state says he is surprised at Vladimir Zelensky's support for neo-Nazis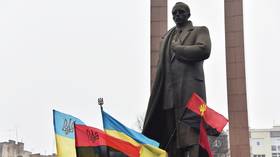 Russian President Vladimir Putin has criticized Ukraine's decision to remove Soviet leader Vladimir Lenin from public squares and replace him with Nazi collaborator Stepan Bandera, whom he called a "scoundrel and a fascist."
Speaking at a meeting with war correspondents on Tuesday, the president said he was "surprised" by how Ukrainian President Vladimir Zelensky, who has Jewish heritage, could possibly support neo-Nazis.
"I just don't understand it," Putin said, pointing out that the Nazis had been responsible for brutally slaughtering the country's civilian Jewish population.
The Russian leader stated that "bastards like Bandera" have been put on a pedestal in Ukraine along with others like him, and that now there are people walking around with their posters.
"Well if they don't want communism – God bless them, who wants it these days? They're throwing the founder of Ukraine, Lenin, off the pedestals – okay, that's their business. But putting Bandera up in his place? He's a fascist," Putin stated.
The president reiterated that one of Russia's goals in launching its military operation last year was the "denazification" of Ukraine. He said Moscow and Kiev had even reached a deal in March 2022 that Ukraine would introduce legislation to outlaw neo-Nazi movements in the country. However, as soon as Russia's forces pulled back from Kiev, the Zelensky administration immediately scrapped the agreement, Putin explained.
Stepan Bandera (1909-1959) was the head of the ultranationalist Organization of Ukrainian Nationalists (OUN) which was known for its radical anti-Semitic ideology and collaboration with Nazi forces. During World War II, the OUN's paramilitary wing, the Ukrainian Insurgent Army (UPA), was responsible for the deaths of tens of thousands of Poles and Jews in Ukraine.
Despite Bandera being internationally recognized as a Nazi collaborator, in 2010 Kiev declared him a national hero and Ukrainian nationalists have regularly marked his birthday on January 1 with torchlit marches and demonstrations across the country.
You can share this story on social media: