Russian MOD releases VIDEO of Ukrainian vehicles destroyed in combat
Moscow accompanied the footage with a quote from a legendary WWII radio announcer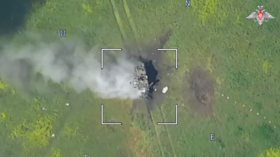 The Russian Ministry of Defense published a video on Friday showing the destruction of armored vehicles supplied to Ukraine by the US and its allies, overlaid with a snippet from the iconic 1941 radio broadcast announcing the invasion of the Soviet Union by Nazi Germany.
The 45-second video opens with a group of armored cars getting caught by artillery in an open field, somewhere on the Zaporozhye front. This is followed by drone footage of exploding armored cars, personnel carriers and tanks. A still image shows a group of US-supplied Bradley infantry vehicles and a knocked-out German-made Leopard tank. Another Leopard is then seen burning on a dirt road.
While the footage is accompanied by electronic music, the video opens with a blast from the past. "Our cause is just. The enemy will be defeated," says Yuri Levitan (1914-1983), known as the voice of Soviet radio, quoting from the June 22, 1941 broadcast announcing that Nazi Germany and its allies had invaded the USSR.
The Russian Defense Ministry frequently uses another quote from Levitan's broadcast, "Victory will be ours!" to sign its announcements.
You can share this story on social media: