VIDEO shows American-made Bradleys and German-made Leopard tanks destroyed by Russia
Moscow previously reported that Kiev had lost over 30 armored fighting vehicles in a failed counteroffensive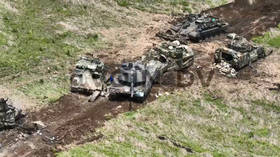 Videos emerged on Friday purporting to show the destruction of a Leopard 2A6 tank as well as several US-made Bradley infantry fighting vehicles during a failed Ukrainian offensive in Russia's Zaporozhye Region.
Another video apparently shot by Ukrainian soldiers showed a Leopard 2A4 that had been blown up by a mine during an unsuccessful attempt to break through the front line near the town of Orekhov in Zaporozhye.
On Thursday, Colonel-General Aleksandr Romanchuk, a commander of a Russian unit operating in Zaporozhye Region, reported that Kiev's forces had lost over 30 tanks during an overnight offensive. Ukrainian losses also reportedly included up to 350 personnel, as well as three Leopard tanks and more than 10 infantry fighting vehicles.
According to Romanchuk, the first losses suffered by the Ukrainian army were during an attempt to cross a minefield. The official claimed that four tanks had been destroyed, as well as a demining machine.
He stated that Russian forces had then opened fire on Ukrainian troops, who chose to abandon their plan to cross the minefield.
On Friday, Russia's Defense Ministry released its latest battlefield report in which it claimed that Ukraine had lost up to 1,240 troops and 39 tanks in just 24 hours. The losses are in addition to the heavy toll suffered during a week when Kiev is believed to have finally launched its long-anticipated counteroffensive.
The ministry claimed that Ukraine's armed forces also lost 30 infantry fighting vehicles, 38 armored vehicles, dozens of pieces of artillery and other military hardware, as well as two military jets, two UK-supplied Storm Shadow cruise missiles, and 13 drones.

Earlier this week, the Russian Defense Ministry also released a black-and-white video that purportedly showed a Ukrainian Leopard tank being hit by a Russian anti-tank missile. That was after the ministry claimed that eight similar tanks as well as three French-made AMX-10 wheeled tanks had been destroyed by Russian forces on Monday.
Kiev has not commented on the reported losses, having repeatedly stated that it would not confirm or deny any information about its casualties.
You can share this story on social media: